Markets advance ahead of Fed interest rate decision - 14.12.2016
Dow within 100-point reach of 20000
US stock indices closed at record high on Tuesday as investors awaited Federal Reserve's December interest rate decision. The dollar inched higher: the live dollar index data show the ICE US Dollar index, a measure of the dollar's strength against a basket of six rival currencies, closed 0.15% higher at 101.06. The Dow Jones industrial average advanced 0.6% closing just shy of psychologically-important 20000 level at 19910.93, a record high for seventh session in a row. Intel and Exxon Mobil shares were the biggest contributors to the blue chip index's rise. The S&P 500 rose 0.7% settling at 2271.72 with technology and energy shares leading the gains and nine of the index's eleven sectors in positive territory. The Nasdaq index outperformed gaining 1% to 5463.83.
US stocks rally continues since early November on expectations of expansionary policies of president Trump whose expressed support for pro-business measures such as tax cuts, environmental and financial deregulation as well as infrastructure projects are anticipated to boost the US growth. And on the background of recent positive economic data investors see a Fed hike at conclusion of two-day policy meeting today as virtually certain, pricing in a 91% probability for a 25 basis point hike based on CME's FedWatch tool. Investors will be watching particularly for indications of possible faster pace of rate hikes in 2017 based on policy makers' economic projections, dot plots. There is a chance, albeit small, that policy makers may deem more than two rate hikes are needed in 2017 to offset the inflationary pressures that may develop from implementations of expansionary policies such as tax cuts and big spending projects. The interest rate decision will be announced today at 20:00 CET followed by Janet Yellen's press conference at 20:30 CET. Before that at 13:00 CET Mortgage Applications will be released by the Mortgage Bankers' Associations in US. At 14:30 CET November Advance Retail Sales will be published, the tentative outlook is negative. At 15:15 CET November Capacity Utilization, Manufacturing and Industrial Production will come out, the outlook is negative for dollar. At 16:00 CET October Business Inventories will be published, the outlook is positive.
European stocks lifted by Italian bank stock rally
European stocks closed higher on Tuesday at 11 month high led by Italian stocks. The euro weakened and the British Pound strengthened against the dollar after data showed UK consumer prices rose at their fastest annual pace for more than two years in the past month. The Stoxx Europe 600 ended 1.1% higher with Italy's stock market index outperforming as Italian bank shares jumped 5.8%. Germany's DAX 30 ended 0.8% higher at 11284.85. France's CAC 40 gained 0.9% and UK's FTSE 100 index rose 1.1% closing at 6968.57.
The rally of bank stocks was led by a 16% jump in shares of Italian UniCredit on news the bank will launch a 13 billion-euro ($13.8 billion) rights issue by the end of March. Italy's largest lender by assets has a market capitalization of just under €15 billion, and plans to cut an additional 6500 jobs by 2019. Today at 10:30 CET labor market report for three months ending in October will be published in UK, the outlook is neutral for Pound. At 11:00 CET October Industrial Production will be published in euro-zone, the outlook is positive for euro.
Asian investors cautious ahead of Fed meeting
Asian stocks are inching higher today with investors cautious ahead of much anticipated Federal Reserve interest rate decision. Nikkei ended up 0.02% at 19.253.61 with yen edging higher against the dollar. The quarterly tankan survey released today showed that sentiment among big Japanese manufacturers rose to plus 10 over the three months to December from plus 6 in the previous quarter, with a positive number indicating the percentage of respondents saying business conditions are favorable exceeds those saying they aren't. Chinese stocks are mixed with the Shanghai Composite Index down 0.4% while Hong Kong's Hang Seng index is up 0.1%. Australia's All Ordinaries Index rose 0.7% with Australian dollar rising against the dollar.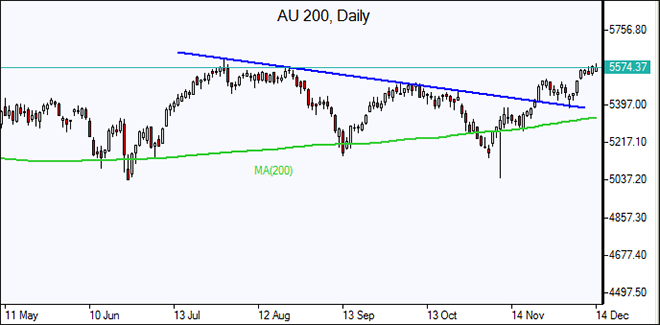 Oil prices retreat on surprise US inventory build
Oil futures prices are edging lower today after a report US crude inventories rose last week. The American Petroleum Institute private industry group reported late Tuesday US inventories increased unexpectedly by 4.7 million barrels. Another negative for oil was the International Energy Agency (IEA) report which estimated that the Organization of Petroleum Exporting Countries pumped about 34.2 million barrels a day of crude in November, 500000 bpd above OPEC's official estimate, which was already a record. Prices ended at another 17 month higher on Tuesday after the IEA upgraded its 2016 global oil demand and predicted global inventories should start to shrink in the first half of 2017. February Brent crude rose 0.1% to $55.72 a barrel on the ICE Futures exchange in London on Tuesday. Today at 16:30 CET the Energy Information Agency will release US Crude Oil Inventories.
See Also
Follow the Market with Our Live Tools and Calendars
Market Analysis Lab
from Our Top Experts