Structure
PCI Components and their volume
Swipe table
Parameters
PCI main trading conditions
Swipe table
The volume to calculate Swap and 1 pip value
1
Margin in USD for the volume and leverage of 1:100
213.85 USD
Application field
How can PCI be applied in trading?
This personal trading instrument &Materials_Stocks_US can be used to trade and analyze the dynamics of the portfolio of stocks in the extractive industry (the largest US issuers, excluding energy resources), for a comparative analysis of this stock index with other stock indices. For example, by creating a percentage chart D1 of the S&P500 stock index, the high-tech index and our index of extractive industry &Materials_Stocks_US in NetTradeX trading terminal, we can see (in Figure 1) that over 2017 (till the end of January 2018) amid a constant increase in all indices, the stock index of the extractive sector rose sharply in the first month of the year, then, fell slightly till the middle of June, but by the beginning of the autumn, it exceeded all indices in growth. Then, by the beginning of December, our index fell sharply (only + 15% from the beginning of the year) similar to the price of early 2017, but, then, again almost overtook all indices in growth (+35) in two months. Thus, our index of the extractive sector was quite volatile.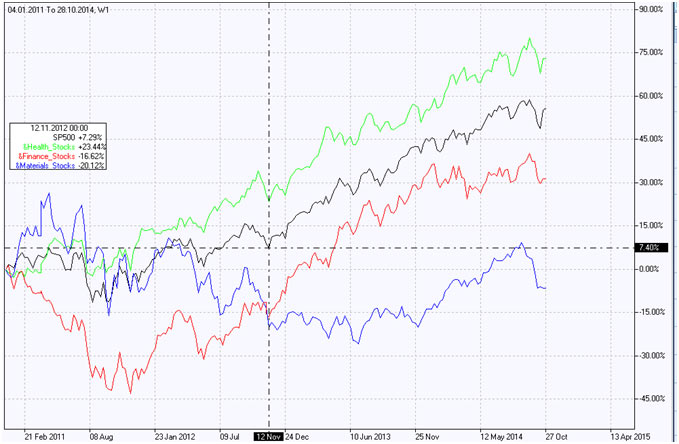 This PCI will be comfortable to trade for those traders, who specialize in stock indices and the behavior of industrial indices.