Structure
PCI Components and their volume
Swipe table
Parameters
PCI main trading conditions
Swipe table
The volume to calculate Swap and 1 pip value
1
Margin in USD for the volume and leverage of 1:100
287.36 USD
Application field
How can PCI be applied in trading?
Non-cyclical stocks are stocks of companies engaged in production of goods and services that have stable demand independent of global business cycles - for example production of food, tobacco.
This personal trading instrument &Non-cyclical_Stocks is used for the dynamics analysis and trade of the portfolio of non-cyclical stocks, as well as comparative analysis of this stock index with other stock market and sectoral indexes. For example, by building a W1 percentage chart in the NetTradeX terminal for &Materials_Stocks, &Energy_Stocks and &Non-cyclical_Stocks (Fig.1), it is evident that during a 10 month period (from February to November 2014) the dynamics of the non-cyclical industry index was more stable compared with the dynamics of the materials and energy industry indexes.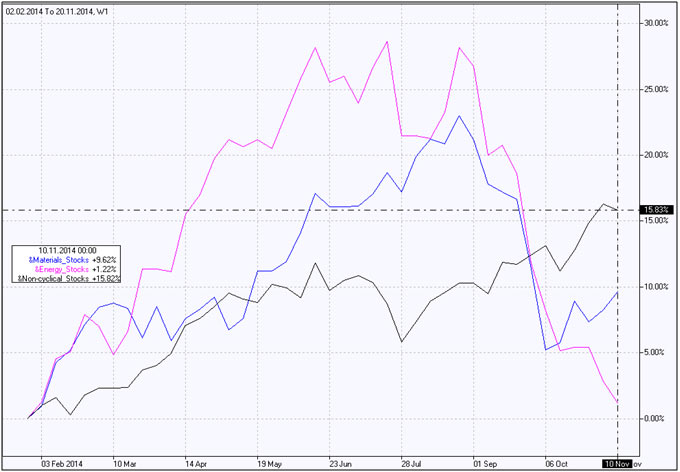 Traders specializing in broad stock market and industry indexes will be comfortable trading this instrument.