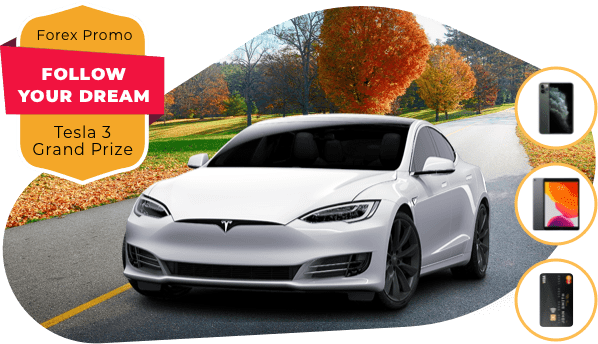 3 Simple Stages
1
Minimum deposit of
$250
+
30%
welcome bonus
2
Trading +
30%
activity bonus
* A participant who wins one of the material prizes has the opportunity to apply for a cash equivalent of a prize
Any individual or legal entity willing to participate, who is registered as a client of IFC Markets and corresponds to the requirements of participation in the promotion
The promotion is for both new customers and existing customers
A participant needs to open a real trading account with IFC Markets to participate in the promotion (a participant may use an already existing real trading account)
A participant must make an initial deposit of at least 250 USD / 250 EUR / 25,000 JPY / 25,000 uBTC to receive a 30% Welcome bonus and be eligible to participate in the second stage of the current promo.
One participant can operate only one promo Live account
Participants can fund their accounts using any deposit method available for the region
A participant can use trading strategies and expert advisors without any restrictions
A participant may lose the Welcome bonus when applying for the funds withdrawal after receiving the bonus, if as a result their account equity is less than the total deposit amount + Bonus amount
To participate in the Prize Fund Draw, a participant must complete the previous two stages of the promotion
Each participant can claim only 1 of the prizes
Winners may choose and receive the cash equivalent of a prize instead of a material prize at their discretion
Start Date: October 1st, 2020
Completion date: April 1st, 2021
The promotion is held online and has 3 stages in total.
The prizes are:

1 Tesla Model 3
5 iPhone 11 Pro smartphones
10 iPad Air tablets
50 bonuses of $ 100 each

* It is possible to apply for a cash equivalent of a material prize

The 1st stage deposit should be at least 250 USD / 250 EUR / 25,000 JPY / 25,000 uBTC
30% Welcome bonus for the 1st deposit
To complete the 2nd stage of the promotion a participant needs to make turnover of at least 3 Conditional Lots* within a month
If a participant follows the rules, he/she gets a Bonus of 30% of the 1st deposit for the next month. For example, if the participant X has provided a minimum turnover of 3 Conditional Lots in the trading process in November, then he/she will receive Bonus of 30% of the first deposit made in December).
After fully complying with the rules of the 1st and 2nd stages of the promo, participants get a certain number of Tickets**(at least 3) to participate in the final Prize Draw, which will be broadcast live
The chances to receive prizes directly depend on the number of Tickets received for the active participation in the promotion
The main language describing Terms and Conditions of this promotion is English.
* A Conditional Lot is a conditional measure unit for trading turnover defined by IFC Markets. See section 8 "Conditional Lots Calculation Table" of the Terms and Conditions of this promotion
** A Ticket (in this promo) is a carrier of information necessary to determine with an absolute degree of certainty the fact of a win or a loss at the Prize Draw stage.
Why 185K Clients Choose IFC Markets
Create Unlimited Instruments