Kakao Technische Analyse - Kakao Handel: 2021-07-28
Kakao Technical Analysis Summary
Stark Zu Verkaufen
Sell
Neutral
Buy
Strong Buy
| | | |
| --- | --- | --- |
| Indicator | VALUE | Signal |
| RSI | | Buy |
| MACD | | Buy |
| MA(200) | | Neutral |
| Fractals | | Neutral |
| Parabolic SAR | | Buy |
Kakao Chart Analysis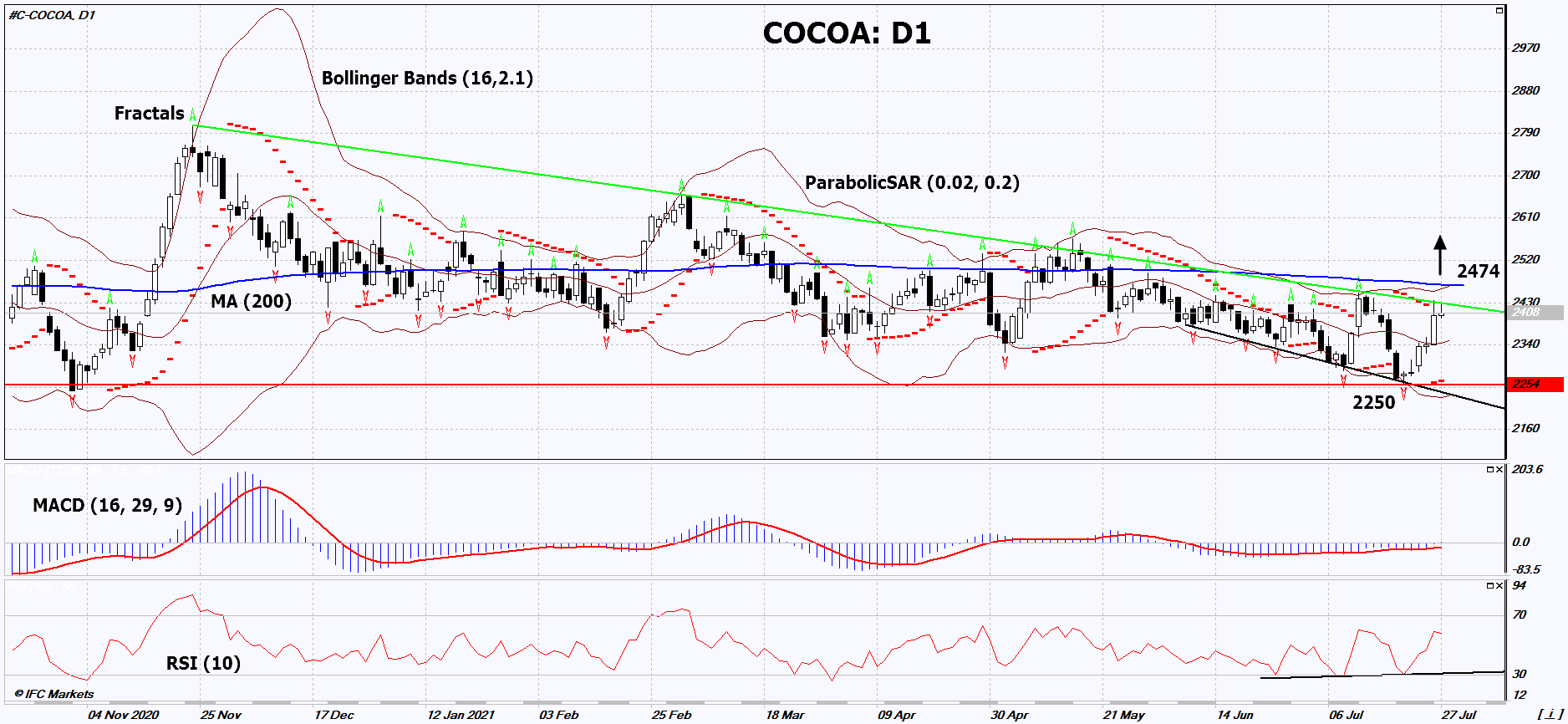 Kakao Technische Analyse
On the daily timeframe, COCOA: D1 approached the downtrend resistance line. It must be broken upward before opening a position. A number of technical analysis indicators have generated signals for further growth. We do not rule out a bullish movement if COCOA rises above the last fractal upper, 200-day moving average and upper Bollinger line: 2474. This level can be used as an entry point. The initial risk limitation is possible below the Parabolic signal and the last lower fractal: 2250. After opening a pending order, move the stop following the Bollinger and Parabolic signals to the next fractal low. Thus, we change the potential profit / loss ratio in our favor. The most cautious traders, after making a deal, can go to the four-hour chart and set a stop-loss, moving it in the direction of movement. If the price overcomes the stop level (2250) without activating the order (2474), it is recommended to delete the order: there are internal changes in the market that were not taken into account.
Fundamentale Analyse Rohstoffe - Kakao
Cocoa processing and grinding companies are seeing an increase in demand for their products. Will the COCOA quotes grow?
The Cocoa Association of Asia announced an increase in cocoa processing in Asian countries in the 2nd quarter of this year by 9% compared to the 2nd quarter of 2020 - up to 220.9 million tons. This is a record increase in processing for the 2nd quarter. The European Cocoa Association announced an increase in cocoa processing in Europe also in the 2nd quarter by 14% - up to 356.9 million tons. This is the maximum increase in processing in 10 years. Earlier, the National Confectioners Association announced an increase in cocoa processing in North America in the 1st quarter by 11.7% to 123.7 million tons. Note that at the end of May, the International Cocoa Organization (ICCO) predicted an increase in world cocoa production in the 2020/2021 agricultural season by 6.3% to 5 million tons. The authorities of the world's largest cocoa producer, the Ivory Coast, reported a 6.8% increase in shipments of beans to seaports between October 1 and July 25, compared with the same period last year. As a result, the shipment reached 2.35 million tons. However, in the last week there has been a noticeable reduction. Note that on the ICE exchange in New York, the volume of net-short positions in cocoa is now at an annual high. In case of their quick closure, quotes may go up.
Hinweis:
Diese Übersicht hat einen informativen und Tutorencharakter und wird kostenlos veröffentlicht. Alle Daten, die in dieser Übersicht eingeschlossen sind, sind von mehr oder weniger zuverlässigen öffentlichen Quellen erhalten. Außerdem gibt es keine Garantie, dass die angezeigte Information voll und genau ist. Die Übersichten werden nicht aktualisiert. Die ganze Information in jeder Übersicht, einschließlich Meinungen, Hinweise, Charts und alles andere, werden nur für Vertrautmachen veröffentlicht und sind keine Finanzberatung oder Empfehlung. Der ganze Text und sein jeder Teil sowie die Charts können nicht als ein Geschäftsangebot betrachtet werden. Unter keinen Umständen sind IFC Markets und seine Angestellten für die Handlungen, die von jemand anderem während oder nach dem Lesen der Übersicht genommen werden, verantwortlich.
Letzte technische Analyse