Technische Analyse XAUUSD : 2020-06-24
Stark Zu Verkaufen
Sell
NEUTRAL
Buy
Strong Buy
| | | |
| --- | --- | --- |
| Indicator | VALUE | Signal |
| RSI | | NEUTRAL |
| MACD | | Buy |
| MA(200) | | Buy |
| Fractals | | NEUTRAL |
| Parabolic SAR | | Buy |
| Bollinger Bands | | NEUTRAL |
Chart Analysis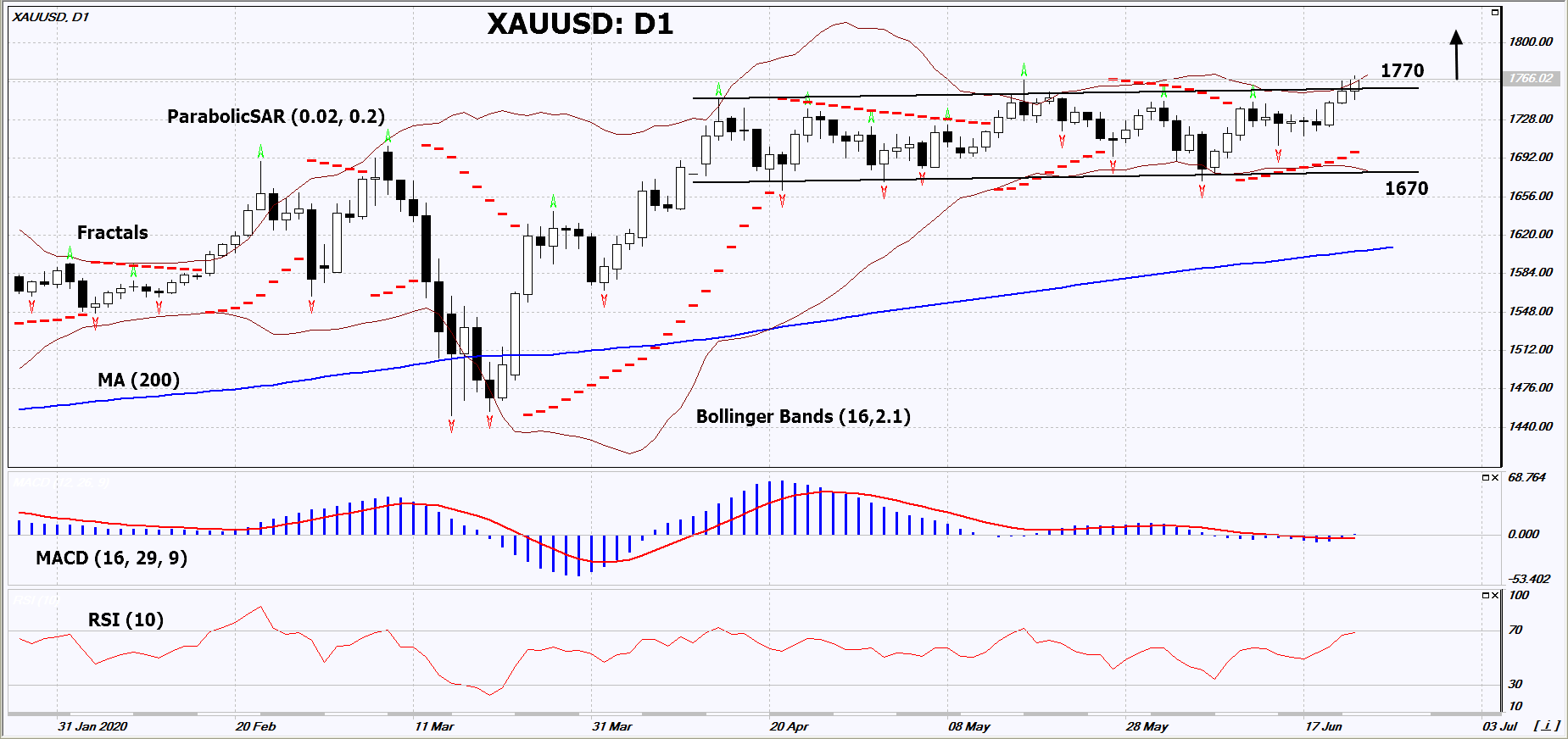 On the daily timeframe, XAUUSD: D1 went up from the medium-term neutral channel. A number of indicators of technical analysis formed signals for a further increase. We do not exclude a bullish movement if XAUUSD rises above its last maximum and the upper Bollinger line: 1770. This level can be used as an entry point. We can set a stop loss below the Parabolic signal, the last 2 lower fractals and the lower Bollinger line: 1670. After opening a pending order, we move the stop loss following the Bollinger and Parabolic signals to the next fractal minimum. Thus, we change the potential profit/loss ratio in our favor. After the transaction, the most risk-averse traders can switch to a four-hour chart and set a stop-loss, moving it in the direction of the trend. If the price meets the stop loss level (1670) without activating the order (1770), it is recommended to delete the order: the market sustained internal changes that have not been taken into account.
Fundamentale Analyse
The economic stimulus programs of the world's central banks through monetary issuance are boosting demand for gold. Will the XAUUSD quotes continue to grow?
Virtually all Central Banks of developed countries are now issuing their currencies to support national economies affected by the coronavirus pandemic. New funds are used for concessional lending to businesses, the payment of benefits to the population and for the redemption of previously issued corporate debt securities. In April 2020, the US Federal Reserve announced a program of $ 2.3 trillion Aid to the American economy, known as Quantitative Easing (QE). The ECB has several times increased its Pandemic Emergency Purchase Program (PEPP). Now it is 1.35 trillion euros. Besides that, the ECB is now ready to offer additional soft loans to European banks in the amount of 1.31 trillion euros. Similar programs exist in Canada, Switzerland, Australia, Britain and other countries. For example, the Bank of Japan's assistance program for Japanese business is 110 trillion yen ($ 1.02 trillion). Theoretically, the global influx of liquidity can increase the demand for gold.
Hinweis: Diese Übersicht hat einen informativen und Tutorencharakter und wird kostenlos veröffentlicht. Alle Daten, die in dieser Übersicht eingeschlossen sind, sind von mehr oder weniger zuverlässigen öffentlichen Quellen erhalten. Außerdem gibt es keine Garantie, dass die angezeigte Information voll und genau ist. Die Übersichten werden nicht aktualisiert. Die ganze Information in jeder Übersicht, einschließlich Meinungen, Hinweise, Charts und alles andere, werden nur für Vertrautmachen veröffentlicht und sind keine Finanzberatung oder Empfehlung. Der ganze Text und sein jeder Teil sowie die Charts können nicht als ein Geschäftsangebot betrachtet werden. Unter keinen Umständen sind IFC Markets und seine Angestellten für die Handlungen, die von jemand anderem während oder nach dem Lesen der Übersicht genommen werden, verantwortlich.
Letzte technische Analyse