GeWorko method is a new stage in the development of portfolio trading and analysis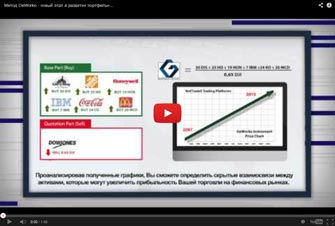 Create different instrument portfolios.
Choose more profitable or less risky
Optimize your trading
If you are an analyst, you will get unique information for market analysis.
If you are a trader, you will see trends which are not seen to other participants.
Download NetTradeX with PCI GeWorko
How to apply GeWorko method?
1

Download the NTX trading platform.

2

Use the GeWorko method to create your own PCI instruments.

3

Trade your personal instruments.
How does the method work?
The nature of composite instruments GeWorko is very similar to the concept of exchange rate, when the price of the base currency is expressed in the number of units of the quoted currency. In a composite instrument two portfolios stand for the base and the quoted currencies and their ratio (relative value or the price of the composite instrument) stands for the exchange rate.
More
Method appliction secrets
Specially for you we will regularly publish articles describing how to apply GeWorko method for operating successfully in financial markets. You can find all the published articles in a special section, as well as to subscribe to fresh articles in a special blog on the right.
Advantages of the method
Form portfolios from hundreds of available assets.
Combine both long and short positions under your composite portfolios.
Calculate the price of one portfolio in terms of another.
Create personal composite instruments (PCI) GeWorko.
Get the price history of any composite instrument in real-time mode.
Trade with personal composite instruments

(Soon)
Press About GeWorko