Technische Analyse OIL : 2020-08-03
Recommendation Öl WTI:
Sell
Stark Zu Verkaufen
Sell
Neutral
Buy
Strong Buy
| | | |
| --- | --- | --- |
| Indicator | VALUE | Signal |
| RSI | | Sell |
| MACD | | Neutral |
| MA(200) | | Neutral |
| Fractals | | Neutral |
| Parabolic SAR | | Sell |
| Bollinger Bands | | Neutral |
Chart Analysis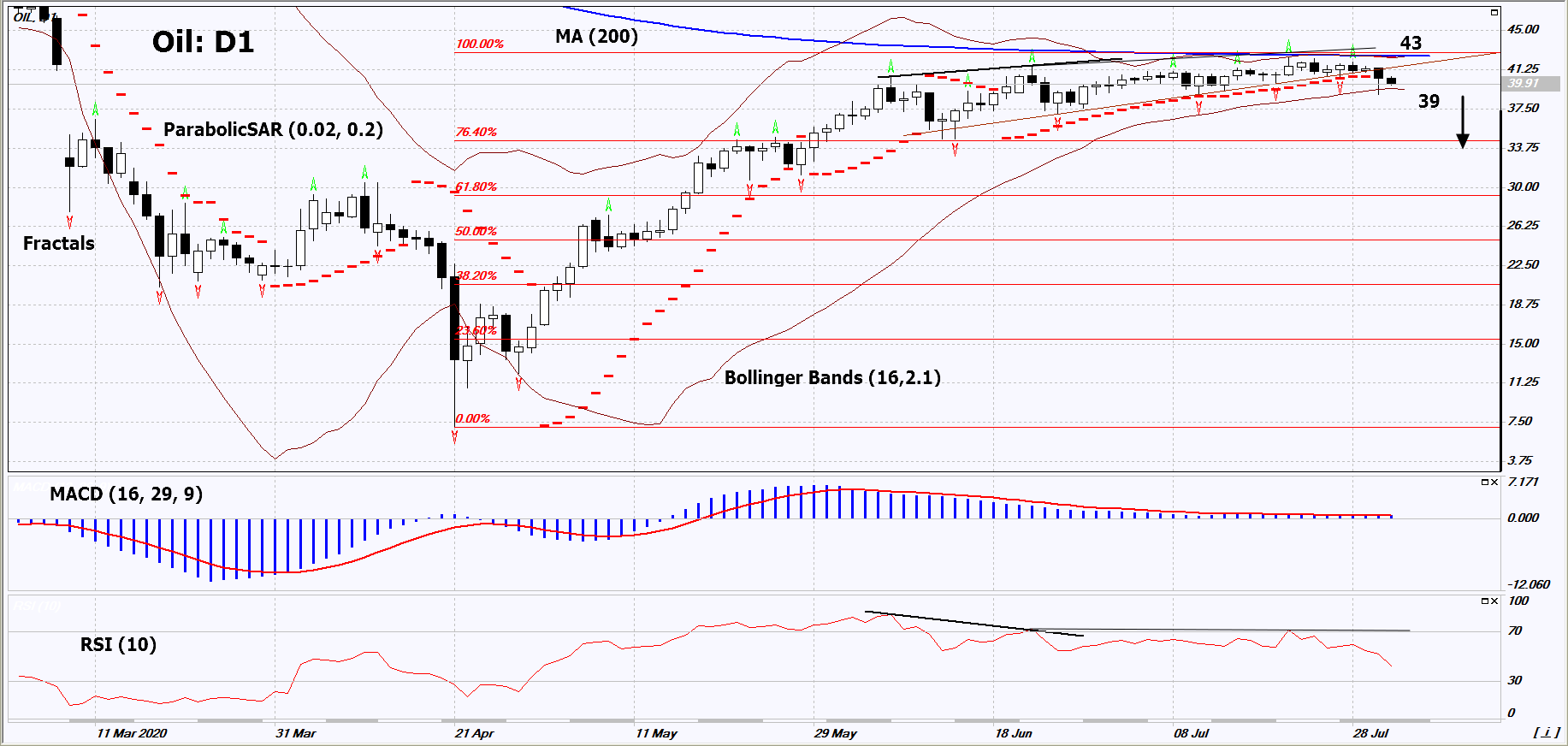 On the daily timeframe, Oil: D1 is being traded in a narrow neutral range for almost 2 months. A number of technical analysis indicators formed signals for a decline. We do not rule out a bearish movement if Oil falls below the lower Bollinger band: 39. This level can be used as an entry point. We can set a stop loss above the last two upper fractals, the upper Bollinger line, the 200-day moving average line and the Parabolic signal: 43. After opening a pending order, we should move the stop loss following the Bollinger and Parabolic signals to the next fractal low. Thus, we change the potential profit/loss ratio in our favor. The most risk-averse traders, after the transaction, can switch to a four-hour chart and set a stop loss, moving it in the direction of the bias. If the price meets the stop loss (43) without activating the order (39), it is recommended to delete the order: some internal changes in the market have not been taken into account.
Fundamentale Analyse
Since August 1, 2020, OPEC + countries will increase oil production by 1.5 million barrels per day (bpd). Will oil quotes go down ?
On July 15, 2020, the OPEC + countries agreed to reduce the oil production limit from 9.7 million bpd to 7.7 million bpd from August 1. This means that the difference (or 2 million bpd) will additionally enter the world market. The real increase will be less, and will amount to 1.5 million bpd, as a number of countries such as Iraq and Nigeria have exceeded their oil production quotas in the past. In May, the overall OPEC + reduction quota was met by only 87%, bringing additional 1.26 million barrels per day to the world market. This did not prevent the growth in oil quotes. In June, the quota was met by 107%. The next increase in production, by another 2 million bpd, is expected only in early 2021, when the OPEC + production limit will be reduced to 5.7 million bpd. The continuation of the coronavirus pandemic may be another negative factor for oil prices. A number of countries are inclined to reintroduce quarantine, which will lead to lower demand.
Hinweis:
Diese Übersicht hat einen informativen und Tutorencharakter und wird kostenlos veröffentlicht. Alle Daten, die in dieser Übersicht eingeschlossen sind, sind von mehr oder weniger zuverlässigen öffentlichen Quellen erhalten. Außerdem gibt es keine Garantie, dass die angezeigte Information voll und genau ist. Die Übersichten werden nicht aktualisiert. Die ganze Information in jeder Übersicht, einschließlich Meinungen, Hinweise, Charts und alles andere, werden nur für Vertrautmachen veröffentlicht und sind keine Finanzberatung oder Empfehlung. Der ganze Text und sein jeder Teil sowie die Charts können nicht als ein Geschäftsangebot betrachtet werden. Unter keinen Umständen sind IFC Markets und seine Angestellten für die Handlungen, die von jemand anderem während oder nach dem Lesen der Übersicht genommen werden, verantwortlich.
Letzte technische Analyse