Working with Chart Templates
---
In the charts of financial instruments you may save the set package of Indicators and Graphical objects (with their current settings) and other chart settings. The package is called Chart template. The chart templates are stored on the user's PC with user naming each template. By means of templates you may easily transfer the settings of one chart (indicators, objects and other settings) to another one.
1. Working with chart templates.
To work with chart templates right-click on the active chart window and choose the "Templates" item in the opened context window.
The window with "Save the chart as a template..." item will open in the first line and with the list of already existing templates in other lines:
a)Left-click on "Save the chart as a template ..." to open a dialog window "Adding a chart template", type in template name in the opened window and press "OK" to save the template.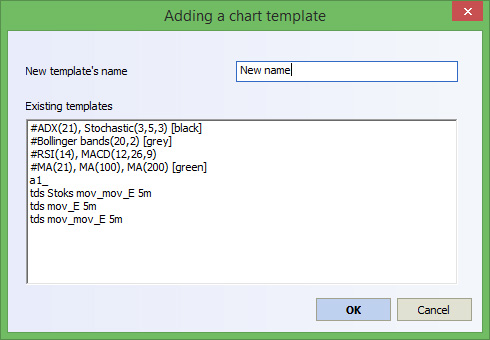 b)If we left-click on the chart name from the list in the window of the first illustration, the current chart will adopt all the template settings including indicators and graphical objects.
2. Exporting templates.
To export chart templates open "Settings" tab in the main menu and choose the "Export..." option in the opened window.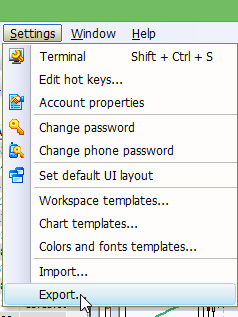 Then, in "Settings export" dialog you may tag the settings you need to export. In our example all chart templates are chosen for export. After pressing Export you may record on your disk a file with "tte" extension with chosen templates.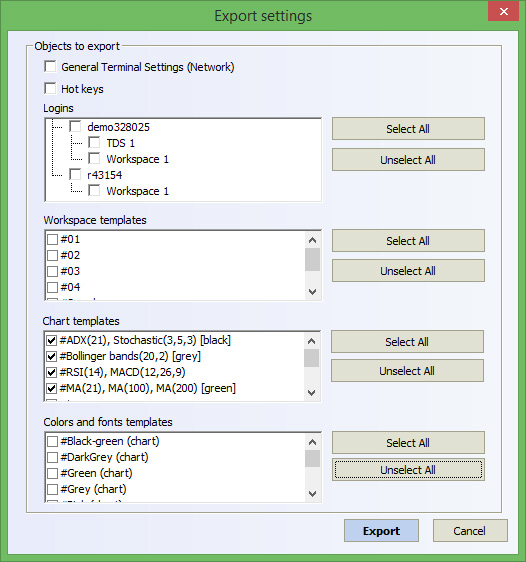 3. Working with list of chart templates.
To delete the template from the list (from the database of terminal templates) go the "Settings" – "Chart templates...":
In the dialog window mark the deletable template and press "Delete", then "Yes" (as an answer to question) and "OK" to close the window.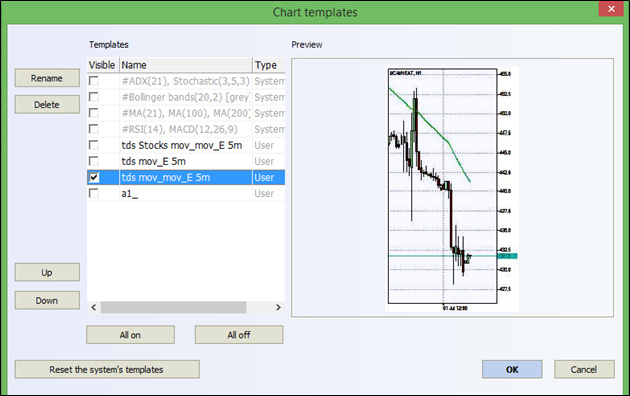 Additionaly, in this dialog window you may set the visibility of the templates in the list of terminal templates. Besides templates created by user, you may use the system templates - the terminal has four system templates which serve as examples of possible chart settings and cannot be deleted.