Online Cryptocurrency Trading - Cryptocurrency CFDs *
Cryptocurrency CFDs are derivatives that allow traders to speculate crypto without becoming direct owners of the underlying asset. The cryptocurrencies are traded as pairs against regular currencies. For example Ethereum, one of the most famous cryptocurrencies is traded for example ETHUSD. One of gists of crypto CFD trading is that there is no need to have an account on a bitcoin exchange or a bitcoin wallet to trade. IFC Markets takes the cryptocurrency price from the most reliable exchanges as well as the futures prices for Bitcoin, Ethereum etc.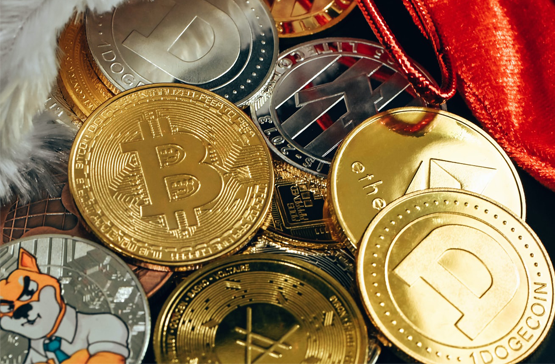 Crypto CFD Trading
Cryptocurrency trading is speculation on the price movement of a cryptocurrency or buying and selling base coins through an exchange. As we mentioned earlier cryptocurrency CFDs trading is done without any ownership of the underlying coins, so you can go long if you think a cryptocurrency will rise in value, or short if you think it will fall.
Also during crypto CFD trading leverage can be used which multiplies potential profits. Meaning traders can deposit a small amount of money, margin, and by dint of leverage gain more exposure to the market. The trader's profit or loss is still calculated based on the full position size; leverage increases both profits and losses.
Why trade Cryptocurrency CFDs with IFC Markets
Since you already know and understand how lucrative cryptocurrency CFD trading can be, let us tell you why trade with IFC Markets.
We provide weekend trading for Bitcoin, Bitcoin Cash, Litecoin, Ethereum, Ripple cryptocurrencies and more.
Specializing in CFD markets for over 15 years.
You can leverage your short or long position up to 1:10 times.
Quick high quality customer support, available 24 hours a day, 5 days a week.
Deposit and withdraw Bitcoin & Ethereum quickly and efficiently.
We are 15 times award winning globally recognized and trusted Forex Broker.
IFC Markets Provides 24/7 Cryptocurrency CFD Trading
* Crypto is traded solely as Contract for Difference "CFD" for speculative purpose only, IFC Markets does not provide exchange services for Crypto currencies.
Search instrument, Name or Type
Sorry, no results were found
Please, choose the platform and the account type
Trade 650+ instruments from Forex & CFD Markets