Structure
PCI Components and their volume
Swipe table
Parameters
PCI main trading conditions
Swipe table
The volume to calculate Swap and 1 pip value
100000
Margin in USD for the volume and leverage of 1:100
159.32 USD
Application field
How can PCI be applied in trading?
The personal trading instrument &CNHRUB is used for trade and dynamics analysis of Chinese yuan vs the Russian ruble, as well as multi-year comparative analysis of the dynamics of currencies and other assets against the Russian ruble. For example, by building a percentage chart in the NetTradeX terminal for 5 currencies (EUR, USD, CNH, XAU, BRENT, NATGAS) against the Russian ruble, (Fig. 1), it is evident that in the last 2 years (by March 2015) the US dollar and the Chinese yuan gained the most (105%) against the Russian ruble, while Brent crude oil gained only 14%.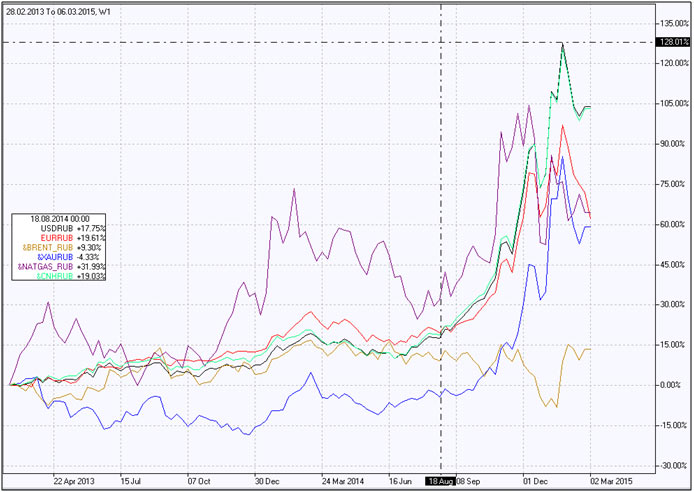 Fig. 1
Traders, who specialize in fundamental analysis and take into account the dynamics of the currencies of China and Russia will be comfortable trading this instrument.