What is Forex - Forex Infographic

Share this infographic
Copy & paste the code below to embed the full infographic on your website.
What is Forex?
Forex (Foreign Exchange) is a network of market participants that sell and buy currencies at determined or current prices, and during these operations, the currency of one country is converted into another. A currency value is based on the supply/demand ratio.
What is Forex Market?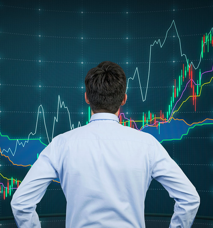 The foreign exchange market, which is commonly known as Forex or FX market, is the world's largest and most traded market with an average turnover of $6,6 trillion per day in 2019 (compared to $1.9 trillion in 2004).
UBS AG predicts $10 trillion in daily Forex turnover by the end of 2020.
The foreign exchange market is 12 times bigger than the futures market and 27 times bigger than the equities market. FX trading daily volume 53 times exceeds the New York Stock Exchange
Forex is based on the principle of free currency conversion, which implies no state intervention in currency exchange transactions.
How does the Forex Market Work?
Forex trading is carried out electronically over-the-counter (OTC), meaning that the FX market is decentralized and all trading transactions are performed via computer networks.
The high volatility makes the FX market attractive to traders: it increases the chances of making high profits while multiplying risks.
Forex Market Participants
Retail Forex traders
Speculators
Commercial companies
Governments and Central Banks
Investment management firms
Non-bank foreign exchange companies
Money transfer/remittance companies and bureaux de changе
10 Most Traded Currencies in 2019

1.
USD
88.3%
2.
EUR
32.3%
3.
JPY
16.8%
4.
GBP
12.8%
5.
AUD
6.8%
6.
CAD
5.0%
7.
CHF
5.0%
8.
CNY
4.3%
9.
HKD
3.5%
10.
NZD
2.1%
Forex Trading Centers in 2019

1.
UK
43.1%
2.
U.S.
16.5%
3.
Singapore
7.6%
4.
Hong Kong
7.6%
5.
Japan
4.5%
6.
Switzerland
3.3%
7.
France
2.0%
8.
China
1.6%
9.
Germany
1.5%
10.
Australia
1.4%
The Advantages of Forex Trading
Leverage, Low transaction charges, High liquidity with great trading opportunities, 24/5 market
FX Trading is Impacted by
Political factors, Macroeconomic factors, Inflation, Global trade
Demographics of Forex Traders
Women 11%, Men 89%.
Men make up the majority of retail forex traders (89%), while 11% of traders are female. According to a Warwick Business School study, women outdo men by 1,8% when investing in markets.
Mobile trading
Android - 56,1%
iOS - 41,8%
Most traders prefer Android to iOS
Languages spoken by FX traders

1.
Spanish
24.0%
2.
Chinese
12.0%
3.
Russian
12.0%
4.
German
8.0%
5.
Mandarin
8.0%
6.
Other
36.0%