Dow closes above 20000 for the first time - 26.1.2017
US stocks end at record high
US stocks ended at record highs on Wednesday with the Dow Jones industrial average closing above the 20000 milestone for the first time. The dollar slid on enduring concerns Trump's protectionist policy priorities call for a weaker dollar: the live dollar index data show the ICE US Dollar index, a measure of the dollar's strength against a basket of six rival currencies, closed 0.37% lower at 99.904. The S&P 500 rose 0.8% settling at a record 2298.37 led by financial and industrials shares. Eight of the main 11 sectors closed higher. The Dow Jones industrial gained 0.8% to close at 20068.51, with Boeing and Caterpillar the best performers. The Nasdaq index finished added 1% to fresh record high 5656.34.
Stocks traded higher continuing the rally since the presidential election on hopes for stimulus measures such as tax cuts, deregulation and big spending programs proclaimed by Trump. Trump's executive orders reviving the construction of Keystone XL and Dakota Access pipelines and the construction of southern border wall with Mexico were deemed as steps in line with implementation of his pro-growth policies, boosting investor confidence. Better than expected earnings reports also helped lift market sentiment. Today at 13:30 CET Initial Jobless Claims and Continuing Claims will be released in US. The tentative outlook is negative. And at 15:45 CET preliminary Services and Composite PMIs for January will be released by Markit. The outlook is positive. At 16:00 CET December New Home Sales will come out. The tentative outlook is negative. At 16:30 CET Natural Gas Storage Change will be released by the Energy Information Administration.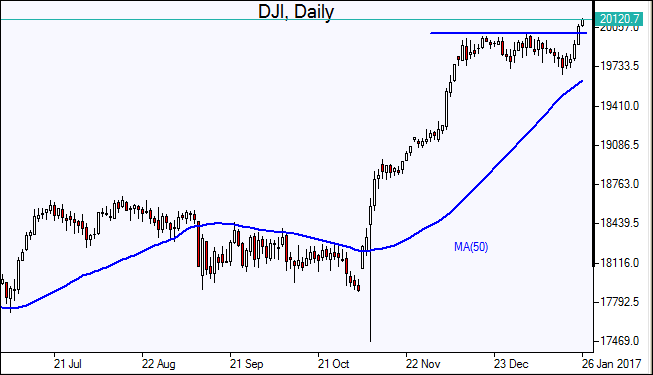 Bank shares help lift European markets
European stocks rallied on Wednesday led by bank shares as investors' risk appetite was boosted by continued rally on Wall Street. The euro and British Pound strengthened against the dollar. The Stoxx Europe 600 climbed 1.3%. Germany's DAX 30 outperformed jumping 1.8% to eight month high at 11806.05 . France's CAC 40 gained 1% and UK's FTSE 100 index rose 0.2% to 7164.43.
Positive earnings reports also supported market sentiment. Shares of Banco Santander rallied 4% after the Spanish lender reported a rise in earnings on higher fees and stronger-than-expected lending income. In economic news, German business confidence missed forecasts in January: the Ifo business climate index came in at 109.8, instead of an expected 111.3 reading. Today at 10:30 CET fourth quarter advance GDP will be released in UK. The tentative outlook is negative. At 12:00 CET January Retail Sales will be released in UK by the Confederation of British Industries. The outlook is negative.
Asian markets track Wall Street
Asian stocks are rising today on investor optimism following record closings on Wall Street. Nikkei jumped 1.8% to near three-week high 19402.39 led by financials despite stronger yen against the dollar. Chinese stocks are higher ahead of the start of Lunar New Year holidays: markets in China, South Korea, Taiwan, and Vietnam will be closed on Friday, with China closed through next Thursday. The Shanghai Composite Index is up 0.3% and Hong Kong's Hang Seng index is 1.3% higher. Australia's All Ordinaries Index gained 0.35% as the Australian dollar continued the slide against the dollar.
Oil prices rise on weaker dollar
Oil futures prices are recovering today after a drop on Wednesday on higher US crude inventories. The US Energy Information Administration reported a 2.84 million barrels increase in US crude stock last week to 488.3 million barrels, a third weekly increase in a row. March Brent crude closed 0.7% lower at $55.08 a barrel on Wednesday on London's ICE Futures exchange.
See Also
Follow the Market with Our Live Tools and Calendars
Market Analysis Lab
from Our Top Experts