Global equities inch higher - 9.2.2017
Nasdaq records a fresh record high
US stocks edged higher on Wednesday but the Dow Jones industrial average slipped weighed by financial stocks. The dollar ended lower: the live dollar index data show the ICE US Dollar index, a measure of the dollar's strength against a basket of six rival currencies, closed down 0.22% at 100.177. The S&P 500 gained 0.1% settling at 2294.67 led by utilities and real estate shares while financial stocks were the worst performers, down 0.8%. The Dow Jones industrial lost 0.2% to close at 20054.34 led by JP Morgan, Goldman Sachs and Visa. The Nasdaq index closed at a fresh record high at 5682.45, up 0.2%.
The rally that started after the presidential election has paused as investors are waiting for details how and when President Trump's expansionary policy plans such as deregulation and tax cuts will be implemented. Bank stocks fell as Treasury yields declined, hurting the outlook for banks whose earnings rise with higher interest rates. Financial stocks rose after the presidential election as investors expected interest rates would rise as a result of proclaimed expansionary policies. No important economic data were released on Wednesday. Today at 14:30 CET Initial Jobless Claims and Continuing Claims will be released in US. The tentative outlook is negative. At 16:30 CET Natural Gas Storage Change will be released by the Energy Information Administration. And at 18:00 CET Chicago Fed President Evans Speaks at CFA Society of Chicago.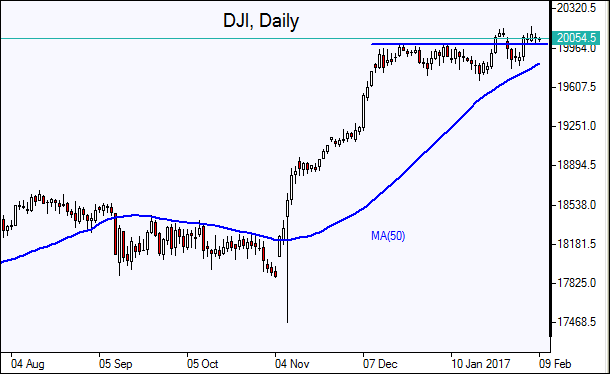 Energy and bank shares limit gains in European stocks
European stocks advanced on Wednesday but gains were limited by declines in energy shares. Both the euro and the British Pound strengthened against the dollar. The Stoxx Europe 600 climbed 0.3%. Germany's DAX 30 underperformed slipping 0.1% to 11543.38. France's CAC 40 gained 0.3% and UK's FTSE 100 index edged up nearly 3 points to 7188.82.
Shares of UK oil explorer Tullow Oil sank 5.4% despite a smaller than expected loss report as the company said cost-cutting will remain a key focus in 2017. Equities are advancing with more than half of the Stoxx companies that have reported so far beating earnings-per-shares estimates, according to JP Morgan. Political uncertainty undermines investors' confidence as market participants are considering the likelihood the far right presidential candidate Marine Le Pen may become France's next president. She has vowed to take France out of euro-zone, a development which is bound to lead to increased market volatility and hurt euro. Banking stocks fell led by France's Natixis, Germany's Deutsche Bank and Dutch lender ING. Today both German Trade Balance and current account for December came in lower than expected. And at 19:30 CET Bank of England Governor Mark Carney speaks in London.
Asian stock indexes are mixed today with Japanese stocks down while Chinese stocks are rising on higher commodity prices. Nikkei fell 0.5% to 18907.67 today on stronger yen in thin trading ahead of Prime Minister Shinzo Abe's meeting with Trump in Washington, D.C. on Friday. The Shanghai Composite Index is up 0.5% and Hong Kong's Hang Seng Index is 0.3% higher. Australia's All Ordinaries Index is up 0.25% with the Australian dollar edging lower against the dollar. The New Zealand dollar is extending losses after weakening by over 0.7% against the dollar following the Reserve Bank of New Zealand decision to keep the interest rate at 1.75% as widely expected while it said also "monetary policy will remain accommodative for a considerable period."
Oil prices rise on surprise US gasoline stock draw
Oil futures prices are gaining today after official data showed US gasoline stockpiles fell by 869 thousand barrels last week to 256.2 million barrels instead of an expected increase. However US crude inventories jumped by 18.8 million barrels to 508.6 million barrels, pointing to continued oversupply in global oil market. The continued oversupply together with rising US crude production indicates the scope of further price increases is limited. April Brent crude closed 0.1% higher at $55.12 a barrel on Wednesday on London's ICE Futures exchange after EIA reported a gasoline supplies draw.
See Also
Follow the Market with Our Live Tools and Calendars
Market Analysis Lab
from Our Top Experts