Global stocks rise to new highs - 8.12.2016
US market posts third record closing in three sessions
US stocks closed at record highs on Wednesday as telecommunication and real estate stocks led the market higher paring early losses due to drop in healthcare stocks. The dollar inched lower as bonds joined the stock rally ahead of the European Central Bank meeting. The live dollar index data show the ICE US Dollar index, a measure of the dollar's strength against a basket of six rival currencies, closed 0.28% lower at 100.188. The S&P 500 ended 1.3% up settling at a record high of 2241.35, with all sectors except the health care closing in the black. The Dow Jones industrial average jumped 1.6% to 19549.62, the third record close in a row led by shares of Nike, Home Depot and Visa which offset losses in healthcare shares of Johnson & Johnson, Pfizer and Merck. The high tech index Nasdaq finished 1.1% higher at 5393.76.
The stock market November rally, which accelerated after November presidential elections on hopes of a boost to US economy as Trump proclaimed his support for tax cuts and massive infrastructure spending, continued despite declines in healthcare stocks following Donald Trump's remark he plans to bring down drug prices. Investors will be watching for European Central Bank interest rate decision today ahead of Federal Reserve's meeting next Tuesday. Today at 14:30 CET Initial Jobless Claims and Continuing Claims will be released in US. The tentative outlook is negative. And at 16:30 CET Natural Gas Storage Change will be released by the Energy Information Administration.
Bank stocks lead European markets' rally
European stocks ended at more than two month highs on Wednesday led by bank stocks. The euro ended higher while the British Pound weakened against the dollar as data showed both the UK industrial production and manufacturing output fell in October instead of expected growth. The Stoxx Europe 600 ended 0.9% higher. Germany's DAX 30 jumped 2% to 10986.69, the highest closing year to date. France's CAC 40 gained 1.4% and UK's FTSE 100 index rose 1.8% closing at 6902.23.
Bank stocks rallied on reports that the Italian government is planning to rescue struggling Italian banks. Bank stocks had tumbled on euro-zone political uncertainty concerns after voters rejected Prime Minister Matteo Renzi's reform proposals on Sunday and Renzi announced his resignation, expected to be effective on Friday. European Central Bank had pledged it would expand purchases of Italian bonds in case of unfavorable development following the referendum and investors are watching today what decision policy makers will make today on interest rate and asset purchases program. ECB President Mario Draghi has promised that the central bank will unveil its decision about the future of its pubic and private bond-buying program, set to end in March. It is widely believed the ECB will keep interest rates on hold while extending its monthly purchases of €80 billion ($85 billion). The European Central Bank Rate Decision will be released today at 13:45 CET. And at 14:30 CET the ECB president Mario Draghi will give a press conference..
Surprise Chinese trade data lift Asian stocks
Asian stocks are rising today as traders anticipate an extension of the ECB asset purchases program and better than expected Chinese trade data boosted investor risk appetite. Both exports and import rose in November by 0.1% and 6.7% respectively, instead of expected declines, yielding a $44.61 trade surplus compared with October's $49.06 billion. Nikkei jumped 1.5% to 18765.47, the highest closing since December despite a downward revision in third quarter GDP and stronger yen. The Shanghai Composite Index is down 0.2% and Hong Kong's Hang Seng index is 0.3% higher. Australia's All Ordinaries Index gained 1.1% while the Australian dollar edged higher against the dollar.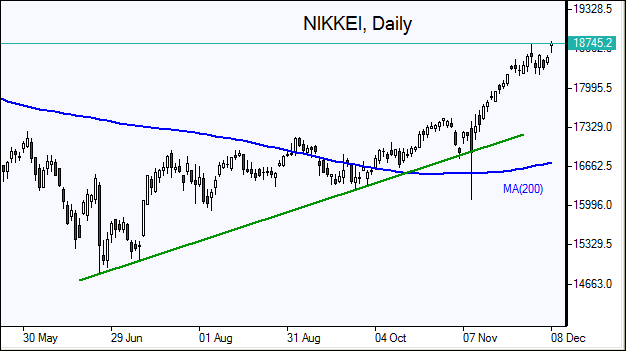 Oil prices pull back ahead of producers' weekend meeting
Oil futures prices are retreating today as doubts persist about the Organization of the Petroleum Exporting Countries (OPEC) actual implementation of the agreed output cut. OPEC and non-OPEC major oil producers will meet again this weekend in Vienna to discuss the details of last week's agreement to cut the overall output by around 1.5 million barrels a day. Prices fell yesterday despite the US Energy Information Administration report the domestic crude supplies fell by 2.4 million barrels last week. Analysts point to the increase in gasoline and distillates stockpiles putting additional pressure on crude oil prices. February Brent crude closed 1.7% lower at $53 a barrel on Wednesday on London's ICE Futures exchange.
See Also
Follow the Market with Our Live Tools and Calendars
Market Analysis Lab
from Our Top Experts