Markets in turmoil after Trump's victory - 9.11.2016
US stocks set to open lower on surprise Trump victory
Futures for S&P 500 and Dow Jones industrial average tumbled as Republican presidential nominee Donald Trump secured a lead in the Electoral College over Democratic rival Hillary Clinton. Markets were pricing a victory for Hillary Clinton after FBI announced on Sunday it would not bring criminal charges against the Democratic candidate for her use of unsecured email server. Investors clearly underestimated the strong voter support for Trump. Analysts were critical of his protectionist and populist policy stance, pointing the potential harm such policies could have for US and global economy. However, Trump won the majority of electoral votes and US stock markets are set to open lower, with strong demand boosting prices of safe haven assets. The dollar is currently retracing after plunging as Donald Trump pulled ahead of Clinton. The live dollar index data show the ICE US Dollar index, a measure of the dollar's strength against a basket of six rival currencies, is down 0.6% at 97.28. The Dow Jones industrial average futures are down 1.6% at 17993.0 after the blue chip index closed 0.4% higher at 18332.43 on election day.
The S&P 500 futures are down 1.8%, with the broad market index having closed 0.4% higher at 2139.56 on Tuesday with all main sectors except for energy closing in the black. The perceived change in US political priorities is clearly negatively impacting the equity markets. Economic data on Tuesday were actually positive: job openings in the US rose slightly in September and remained near record levels, according to the JOLTS survey results. This attests to robust labor market with companies willing to hire despite a somewhat slower economy. The NFIB Small Business Index rose to 94.9 from 94.1 when no change was expected in October. And Chicago Fed President Charles Evans, a known dove among the central bank policy makers, said he didn't think it's a "crime" to overshoot the 2% inflation target, but raising the target would be difficult. Evans will be a voting member of the Fed's policy committee next year. Later Tuesday Evans said that he thought a December interest-rate hike was a reasonable plan if the data continue to come in pointing inflation is inching higher toward the 2% target. Today at 13:00 CET Mortgage applications will be released by the Mortgage Bankers' Associations in US. At 16:00 CET September Wholesale Inventories and Trade Sales will be published, the outlook is neutral for dollar.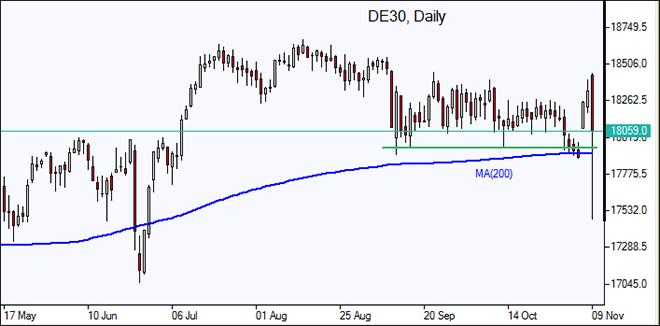 European stocks fall as Trump wins
European stocks are sharply down on Republican nominee Trump's victory in US elections. Both the euro and British Pound jumped against the dollar today. The Stoxx Europe 600 index plunged 4.9% today. The DAX 30 lost 1.7% with the German blue chip index gaining modest 0.2% to 10482.32 on Tuesday. France's CAC 40 is off 1.7%. UK's FTSE 100 is 0.8% lower while it outperformed yesterday gaining 0.5% to 6843.13. Today no important economic data are expected in euro-zone.
Asian stocks fall on Trump policy uncertainties
Asian stocks plunged today after it became clear Trump was winning the presidential race. Nikkei dropped 5.4% to 16251.54 with yen up 1.8% against the dollar. The exporters were the biggest losers as investors worried about prospects of international trade on the background of protectionist stance adopted by Trump during election campaign. Toyota shares plunged 6.5% and Honda sank 7.8%. The Shanghai Composite Index is 0.6% lower and Hong Kong's Hang Seng index is down 2.3%. Australia's All Ordinaries Index fell 1.9% with Australian dollar slumping 1.3% against the dollar. Today at 21:00 CET Reserve Bank of New Zealand Rate Decision will be released, after dollar's plunge and Trump's victory chances increased the central bank will cut interest rates 0.25 percentage point to 1.75%.
Oil prices retreat on US inventory build and global growth uncertainty
Oil futures prices are extending losses today after Trump's victory in the presidential race for the White House added uncertainty in global investment prospects. Prices fell yesterday also following the American Petroleum Institute industry group report late Tuesday the US inventories rose by 4.4 million barrels last week. January Brent crude slipped 0.2% to $46.04 a barrel on London's ICE Futures exchange on Tuesday. Today at 16:30 CET Crude Oil Inventories will be released by the Energy Information Administration.
See Also
Follow the Market with Our Live Tools and Calendars
Market Analysis Lab
from Our Top Experts