Stocks retreat on weak corporate reports - 7.2.2017
Technology companies join fight against Trump's immigration ban
US stock indexes slipped on Monday on mixed corporate reports. The dollar strengthened as market participants bet that European Central Bank would maintain its accommodative monetary policy stance: the live dollar index data show the ICE US Dollar index, a measure of the dollar's strength against a basket of six rival currencies, closed 0.13% higher at 99.89. The Dow Jones average slipped 0.1% to 20052.42 led by drop in Verizon and Home Depot shares. S&P 500 lost 0.2% settling at 2292.56, with energy and telecom stocks the worst performers. The Nasdaq composite index closed 0.1% lower at 5663.55.
There were no major news to drive markets higher like policy steps to scale back the Dodd-Frank regulations last week which boosted financial stocks and market indexes. The rally paused as more than 100 major technology companies including Apple, Google, Facebook and Microsoft, joined the opposition to President Trump's executive order on immigration by filing court papers claiming it violates Constitution. Investors are waiting for more details on President Trumps proposed stimulus measures such as tax cuts and infrastructure projects. There were no major economic news on Monday. Today at 14:30 CET December Trade Balance will be released, the outlook is positive for dollar. At 16:00 CET December Job Openings and Labor Turnover Summary results will be published, the outlook is positive. And at 21:00 CET December Consumer Credit will come out, the outlook is negative
European stocks slip on increased political uncertainty
European markets fell on Monday on weak earnings reports with political uncertainty over impending elections in France and Germany further weighing on market sentiment. Both the euro and the British Pound slid against the dollar after dovish comments by ECB President Mario Draghi. Draghi said it wasn't yet time to withdraw quantitative easing as the recent pickup in inflation was due to recovery in oil prices rather than driven by economic improvement. The Stoxx Europe 600 index fell 0.7%. The DAX 30 lost 1.2% to close at 11509.84. France's CAC 40 fell 1 % and UK's FTSE 100 ended 0.2% lower at 7172.15.
Volkswagen shares lost 2.1% following news that the auto maker is facing its first lawsuit from a large German customer seeking €11.9 million in damages stemming from Volkswagen's emissions cheating scandal. French stocks retreated and bond yields on heightened election uncertainty after far-right National Front party leader Marie Le Pen over the weekend launched her bid to become France's next president. Le Pen has promised to hold a referendum on France's European Union membership within six months of taking office. Meanwhile, French conservative presidential candidate Francois Fillon confirmed Monday he's staying in the race despite an investigation into his wife's state pay. In economic news, factory orders in Germany climbed 5.2% in December, the highest rate since July 2014, against expectations of a 0.7% rise. Today German industrial production came in 3.2% lower on month in December, against expectations of a 0.3% rise.
Nikkei falls as investors turn cautious
Asian stocks are down today as market sentiment was undermined by political uncertainty in Europe and unease about President Trump's protectionist policy stance. Nikkei lost 0.4% to 18910.78 today as yen strengthened against the dollar on increased haven demand. Trading was thin ahead of President Donald Trump's meeting with Japanese Prime Minister Shinzo Abe in Washington on Friday. Chinese stocks are down ahead of foreign exchange reserves report expected to show they fell for the seventh straight month by about $10.5 billion to $3 trillion in January. Both the Shanghai Composite Index and Hong Kong's Hang Seng Index are down 0.1%. Australia's All Ordinaries Index is up 0.1% with the Australian dollar edging lower against the dollar as the Reserve Bank of Australia kept interest rates at a record low 1.5% as expected, calling recent economic slowdown a temporary hiccup.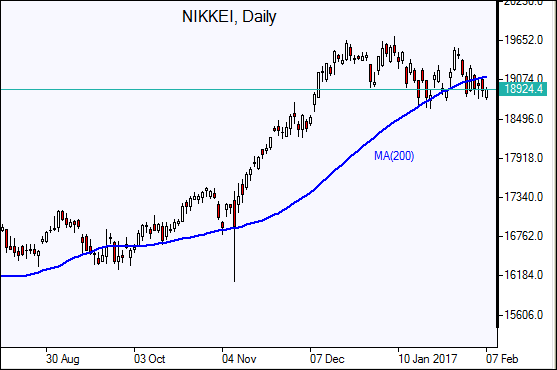 Oil futures prices are lower today after recording the biggest one-day decline since mid-January on Monday. Investors are concerned US crude oil output increases may outweigh output cuts by major producers as US active oil rig count rises and the Trump administration is poised to ease some restrictions on energy companies. April Brent crude declined 1.9% to $55.72 a barrel on London's ICE Futures exchange on Monday, giving back the roughly 1.9% gain last week.
See Also
Follow the Market with Our Live Tools and Calendars
Market Analysis Lab
from Our Top Experts