Trump withdraws US from Trans-Pacific Partnership - 24.1.2017
Dollar falls while Trump confirms plans to renegotiate trade deals
US financial markets closed lower on Monday on continued uncertainty about President Trump's plans for stimulus measures for the US economy and mixed corporate reports. The dollar fell: the live dollar index data show the ICE US Dollar index, a measure of the dollar's strength against a basket of six rival currencies, closed 0.93% lower at 101.625, the lowest in more than two months. Dow Jones industrial average slipped 0.1% to 19799.85 led by 2.6% drop in General Electric shares. S&P 500 fell 0.3% to 2265.20, with six of the main eleven sectors ending in negative territory. Energy and industrial shares were the worst performers. The Nasdaq composite index closed off session lows at 5552.94, retreating 2.39 points weighed down by a selloff in biotechnology shares.
The dollar and stock indices retreated on uncertainties how President Donald Trump plans to implement his pro-growth policies. Trump signed an executive order to remove the US from the Trans-Pacific Partnership, and promised to cut regulations by 75% and renegotiate trade deals at a Monday meeting with business leaders to discuss ways to create US jobs and boost the economy. The president said he would follow through on plans to renegotiate the North American Free Trade Agreement and has set up meetings with Canadian and Mexican leaders, as well as will meet UK Prime Minister Theresa May on Friday to lay the groundwork for a trade pact. President's first steps signal he is promoting protectionist policies proclaimed during the election campaign. Today at 15:45 CET preliminary January Manufacturing PMI will be released by Markit. The tentative outlook is positive. At 16:00 CET July New Home Sales and Richmond Fed's Manufacturing Index for January will come out. The tentative outlook is negative.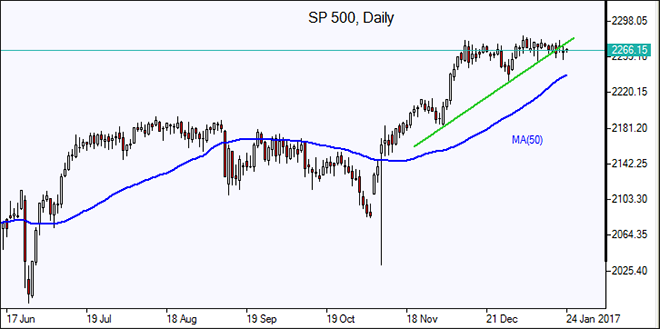 UK Supreme Court Announces Brexit ruling today
European stocks fell on Monday with market sentiment hurt by President Donald Trump's inauguration Friday speech deemed as protectionist. Both the euro and the British Pound strengthened against the dollar. The Stoxx Europe 600 index fell 0.4%. The DAX 30 lost 0.7% to close at 11545.75. France's CAC 40 lost 0.6% and UK's FTSE 100 ended 0.7% lower at 7151.18.
European indices fell as exporter stocks were hurt by stronger currency against the dollar on expected protectionist US trade policy stance supported by President Trump. A stronger currency means European products are less competitively priced, hurting exporters' prospects. Today at 10:30 CET the UK Supreme Court decision will be announced on whether the government will have to put the terms of its Brexit deal to a vote in parliament. A decision requiring a parliament vote is expected to result in softer Brexit terms as many believe British lawmakers will refuse a hard withdrawal from the European Union. This will be bullish for Pound. Before that from 09:00 to 10:00 CET preliminary January Manufacturing, Services and Composite PMIs for France, Germany and euro-zone will be released by Markit. The tentative outlook is positive for euro.
Asian markets mixed on US protectionism concerns
Asian stocks are mixed today after Trump's decision to remove the US from Trans Pacific Partnership and his promise to impose a "very major" border tax on companies that move some operations overseas. Nikkei lost 0.6% to 18787.99 today, with exporter shares hurt by his 'border tax' comment and stronger yen against the dollar. Chinese stocks are rising with the Shanghai Composite Index 0.15% higher and Hong Kong's Hang Seng index up 0.23% in thin trading ahead of the week-long Chinese New Year holidays, set to begin on Saturday. Australia's All Ordinaries Index is up 0.7% as Australian dollar pulled back from two month high against the dollar.
Oil futures prices are recovering today supported by weaker dollar with increase in US drilling activity limiting the gains. Prices ended lower yesterday on concerns US crude oil output is rising after industry group Baker Hughes reported Friday the number of working oil rigs in the US climbed by 29 last week to 551. March Brent crude lost 0.5% to $55.23 a barrel on London's ICE Futures exchange on Monday.
See Also
Follow the Market with Our Live Tools and Calendars
Market Analysis Lab
from Our Top Experts