US markets inch higher as Fed stands pat - 2.2.2017
Apple rallies on better than expected sales
US stock indexes edged higher on Wednesday after the Federal Reserve left interest rates unchanged and shares of Apple rallied a day after the iPhone maker reported better than expected earnings. The dollar ended higher: the live dollar index data show the ICE US Dollar index, a measure of the dollar's strength against a basket of six rival currencies, closed up 0.18% at 99.737. The S&P 500 gained 0.35 points settling at 2279.22. Apple's 6.1% advance propped the broad market index offsetting losses in seven of the S&P 500's eleven primary sectors. The Dow Jones industrial gained 0.1% to close at 19890.94. The Nasdaq index rose 0.5% to 5642.64.
Shares of Apple rallied on higher than forecast iPhone sales, driven by new customers. The Federal Reserve held off hiking rates stating the economy was still on a moderate growth path as consumer and business sentiment improved, but investment activity remains "soft." In other economic news the addition of 246000 jobs in January by private sector was much higher than expected, according to ADP. The manufacturing sector expanded in January at the fastest pace in more than two years, but construction spending fell 0.2% in December. Investors will be watching closely for the Friday jobs report, with outlook positive as predicted by ADP report. Today at 13:30 CET Initial Jobless Claims and Continuing Claims will be released in US. The tentative outlook is positive. At 16:30 CET Natural Gas Storage Change will be released by the Energy Information Administration.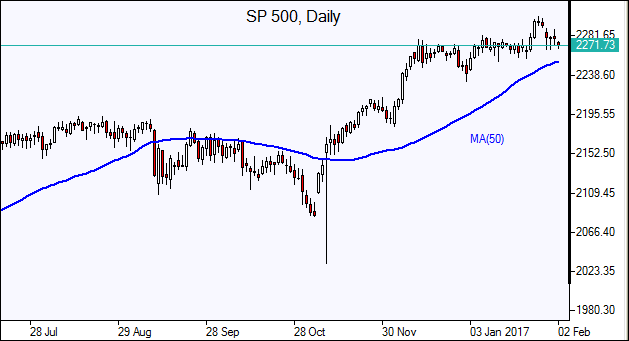 European stocks rise on positive corporate reports
European stocks rallied on Wednesday on better-than-expected earnings reports. The euro pulled back giving back part of previous day's gains spurred by the comment from Peter Navarro, head of the new US National Trade Council, that euro was "grossly undervalued". The Stoxx Europe 600 climbed 0.9%. Germany's DAX 30 outperformed rising 1.1% to 11659.50. France's CAC 40 gained 1% and UK's FTSE 100 index edged up 0.1% to 7107.65.
Positive earnings reports lifted market sentiment. Shares of Siemens rallied 5.6% as the German engineering company raised its earnings projections for the fiscal year. Shares of pharmaceutical giant Roche rose 1.9% after the Swiss drug maker said yearly profit rose 8% on strong sales. Yesterday UK members of parliament voted 498 to 114 in favor of triggering Article 50 by the end of March, starting the process by which the country will exit the European Union. Today at 13:00 CET Bank of England will announce its interest rate decision, no change in policy is expected. And at 13:15 CET ECB president Mario Draghi will speak in Ljubljana.
Asian markets down on weaker dollar
Asian stocks are down today as dollar slide resumed with the Federal Reserve statement providing no indication when the central bank will move to hike rates this year. Nikkei fell 1.2% to more than one-week low on stronger yen. Markets in mainland China are closed for the Lunar New Year. Hong Kong's Hang Seng index is 0.7% lower. The Australian dollar jumped against the dollar after the record high 3.5 billion Australian dollars (US$2.7 billion) trade surplus in December beat expectations of a A$2.2 billion surplus. Australia's All Ordinaries Index slipped 0.13%.
Oil prices slide on surprisingly sharp US inventory build
Oil futures prices prices are pulling back today after official data showed US crude and gasoline stockpiles rose sharply last week. US crude stocks grew by an unexpected 6.5 million barrels to 494.76 million barrels, the Energy Information Administration reported yesterday, fourth weekly rise in a row, with gasoline stocks climbing by 3.9 million barrels. April Brent crude closed 2.2% higher to $56.80 a barrel on Wednesday on London's ICE Futures exchange after EIA reported lower US crude output.
See Also
Follow the Market with Our Live Tools and Calendars
Market Analysis Lab
from Our Top Experts