US stocks advance on positive corporate report - 25.1.2017
US stocks end at record high
US stocks closed higher on Tuesday as positive corporate reports lifted market sentiment weighed by uncertainty about president Trump's fiscal stimuls plans. The dollar recovered after earlier losses following Trump's Treasury secretary nominee Steven Mnuchin's comment a hypothetical 25% rise in the value of the dollar could have negative "short-term implications" for the economy. The live dollar index data show the ICE US Dollar index, a measure of the dollar's strength against a basket of six rival currencies, closed 0.37% higher at 100.276. The Dow Jones industrial average rose 0.6% to 19912.71 led by DuPont and IBM shares. The S&P 500 closed 0.7% higher settling at 2280.07 with the materials and financials sectors leading the advance. The Nasdaq index gained 0.9% to 5600.96.
Both the broad stock market index and the Nasdaq ended at new record highs. Better than expected corporate earnings boosted investor confidence, helped also by President Donald Trump's meetings with union and business leaders seen as a step in realization of his proclaimed policy priority of creating more jobs for Americans. Trump urged the chief executives of the Big Three US automakers to build more cars in the country. In other economic news, the US manufacturing sector continued expanding in January while new home sales fell 2.8% in December. Today at 13:00 CET Mortgage applications will be releases by the Mortgage Bankers' Associations in US. At 15:00 CET June House Price Index will be released by Federal Housing Finance Agency in US. The tentative outlook is neutral.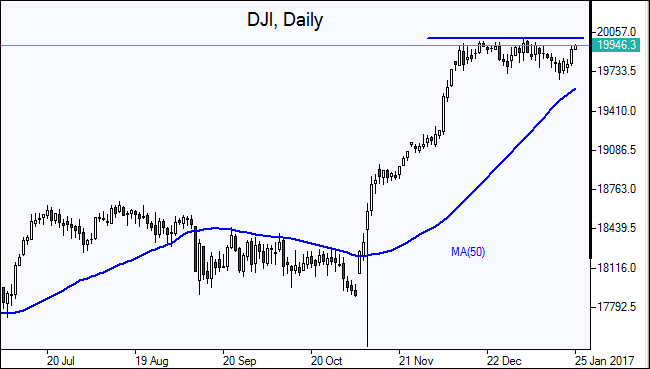 UK Supreme Court rules Parliament vote needed to trigger Article 50
European stocks inched higher on Tuesday after UK's highest court ruled Parliament's vote is needed before the UK can start the Brexit process. Both the euro and the British Pound slipped against the dollar. The Stoxx Europe 600 gained 0.25%. Germany's DAX 30 outperformed advancing 0.43% to 11594.94. France's CAC 40 gained 0.18% and UK's FTSE 100 index slipped less than a point to 7150.34.
The UK Supreme Court in an 8-3 decision upheld a High Court ruling that an Act of Parliament is needed before the British government can invoke Article 50, the beginning of the process for Britain to exit the European Union. This is seen as lessening the chances of a hard exit from the EU's single market. The ruling also said the UK government doesn't need to consult the governments of Scotland, Wales and Northern Ireland on starting Brexit negotiations. In economic news, a preliminary report showed euro-zone's composite PMI dropped unexpectedly to 54.3 in January from 54.4 in December. Germany's composite PMI also slipped in January, to a four-month low at 54.7. However, Germany's manufacturing purchasing managers' index rose more than expected to a three-year high of 56.5 in January, according to a preliminary reading. Today at 10:00 CET January Ifo Business Climate, Current Assessment and Expectations Indexes will be released in Germany. The tentative outlook is positive for euro.
Asian markets follow Wall Street's lead
Asian stocks are up today with investor confidence supported by overnight gains on Wall Street and positive regional data. Nikkei ended 1.4% higher today at 19057.50 rebounding from seven-week low while the yen strengthened against the dollar. Data showed Japan's exports rose from a year earlier in December, the first increase in 15 months. Chinese stocks are advancing notwithstanding the central bank decision to raise the rate on its medium-term lending facility by 10 basis points. The Shanghai Composite Index is 0.1% higher and Hong Kong's Hang Seng index is up 0.3%. Australia's All Ordinaries Index rose 0.35% with the Australian dollar continuing the slide against the dollar.
Oil prices retreat on expected US crude stock build
Oil futures prices are edging lower today after ending higher on Tuesday as traders weighed the impact of OPEC report over the weekend major oil-exporting countries had succeeded in cutting 1.5 million barrels a day from the oil market, about 80% of the amount they pledged to cut. March Brent crude closed 0.4% higher at $55.44 a barrel on Tuesday on London's ICE Futures exchange. The American Petroleum Institute reported late yesterday US crude stocks rose by 2.8 million barrels last week. Today at 16:30 CET the Energy Information Administration will release the Crude Oil Inventories.
See Also
Follow the Market with Our Live Tools and Calendars
Market Analysis Lab
from Our Top Experts