Yellen signals rate increases until the end of 2019 - 19.1.2017
US stocks advance while Dow slides
US financial markets inched higher on Wednesday as losses in telecommunications shares limited gains in financials while Dow finished at its lowest in 2017. The dollar recovered from previous day losses. The live dollar index data show the ICE US Dollar index, a measure of the dollar's strength against a basket of six rival currencies, closed 1% higher at 10.286. The S&P 500 ended 0.2% higher settling at 2271. 89 led by Morgan Stanley, Bank of America and JP Morgan shares. The Dow Jones industrial average slipped 0.1% to 19804.72, closing in the red for the fourth straight day and further below the psychologically important level 20000. The high tech index Nasdaq rose 0.3% to 5555.65.
Trading over the past several days has been subdued as investors await corporate earnings reports will confirm stock-market rally since November is justified by signaling improved US economic performance. However, Goldman Sachs shares slipped 0.6 % after the investment bank reported stronger-than-expected quarterly earnings, and Citigroup lost 1.7% after reporting weaker than expected quarterly revenues. Retail stocks also fell on recent reports of weak holiday sales: Target shares sank 5.8% after the retailer warned its fourth-quarter earnings would be weaker than previously anticipated. The dollar was helped by Federal Reserve Chairwoman Janet Yellen's comment she expects interest rates to rise "a few times per year" until the end of 2019. In economic news, the consumer-price index rose 2.1% in 2016, its fastest pace since 2011. Separately, industrial production climbed 0.8% in December, rising by the largest amount in two years. The Beige Book of business conditions also confirmed inflation is edging up by showing pricing pressure had "intensified somewhat" in the last few weeks of 2016. Industrial production climbed 0.8% in December, rising by the largest amount in two years. Today at 14:30 CET Initial Jobless Claims and Continuing Claims will be released, the outlook is negative for dollar. At the same time December Housing Starts and Building Permits will be published, they are expected to rise after falling in the previous month. At 16:30 CET the Energy Information Administration will release US Natural Gas Storage data.
European Central Bank meets today
European stocks ended moderately higher on Wednesday on positive corporate reports. The euro and British Pound weakened against the dollar following Tuesday's sharp rebound after UK Prime Minister Theresa May said the parliament will vote on government's negotiated terms of the country's exit from the European Union. The Stoxx Europe 600 ended 0.2% higher. Germany's DAX 30 outperformed as it rose 0.5% to 11599.39 . France's CAC 40 underperformed sliding 0.1% and UK's FTSE 100 index inched down 0.4% to 7247.61.
ASML Holding shares rallied 6.7% after the Dutch chip-equipment maker reported higher than expected quarterly profit and earnings forecast. Deutsche Bank ended 0.5% higher on news the bank completed its settlement with the US Department of Justice over allegations the bank misled about residential mortgage-backed securities between 2006 and 2007. The bank will pay $3.1 billion and provide $4.1 billion in relief to homeowners and others. In economic news, inflation in Germany was confirmed to have increased to 1.7% in December, the highest annual rate since July 2013, in line with expectations. Euro-zone inflation for December was confirmed at 1.1%. The European Commission has asked Italy to reduce its 2017 budget deficit by about €3.4 billon ($3.64 billion) to avoid fines. Today at 13:45 CET the European Central Bank interest rate decision will be published. The outlook is negative for euro. No policy change is expected. And at 14:30 CET ECB press conference will start.
Asian stocks are mixed today as investors are cautious ahead of Trump's inauguration on Friday. Nikkei rose 0.9% to 19068.00 as yen weakened against the dollar after Fed Chair Yellen plans to gradually lift rates until the end of 2019. Shares of Toshiba tumbled 16% on news it could post a loss of 700 billion yen ($6.1 billion) at its US nuclear reactor business, much bigger than the 500 billion yen loss it had earlier warned. Chinese tocks are lower on tighter liquidity concerns ahead of the long Lunar New Year holidays. Both the Shanghai Composite Index and Hong Kong's Hang Seng index are down 0.4%. Australia's All Ordinaries Index gained 0.2% while the Australian dollar edged higher against the dollar.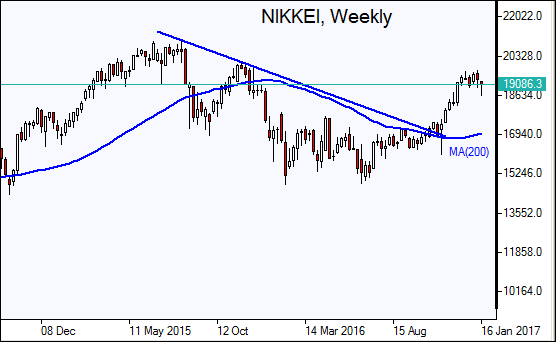 Oil prices recover on expected US crude stocks drawdown
Oil futures prices are recovering today after a drop on Wednesday on forecast of higher US shale output as price rises. The US Energy Information Administration projected that shale oil production would increase to 4.75 million barrels a day in February. February Brent crude closed 2.8% lower at $53.92 a barrel on Wednesday on London's ICE Futures exchange. The American Petroleum Institute reported yesterday US crude stocks fell by 5.04 million barrels last week, more than the 900000 barrels expected by analysts. Today at 17:00 CET the Energy Information Administration will release the Crude Oil Inventories.
See Also
Follow the Market with Our Live Tools and Calendars
Market Analysis Lab
from Our Top Experts