Dollar bullish sentiment strengthens on positive data
Investors increased US dollar long bets to $18.4 billion from $14.72 billion against the major currencies during the previous week, according to the report of the Commodity Futures Trading Commission (CFTC) covering data up to October 18.
Economic data indicated US economic recovery is on track with improved economic performance supporting the case for a Fed rate hike soon. Both import and export prices edged higher in September after declines in previous month. Retail sales rose 0.6% compared with 0.2% decline over month in August. Industrial production grew 0.1% over month after downwardly revised 0.5% contraction in August, with manufacturing production steady. The unexpected decline in consumer confidence to 87.9 in October from 91.2 the previous month reported by Michigan University was the only weak report in the batch of positive data. The minutes of Federal Open Market Committee September meeting revealed members supported monetary tightening "relatively soon" but wanted to see more data pointing to accelerating inflation and full employment. With data pointing US economic recovery continues and prices moving in the right direction investors increased the dollar bullish bets. As is evident from the Sentiment table, sentiment deteriorated for all major currencies except for the British Pound and Australian dollar. And the Australian dollar and Japanese yen are still the only two major currencies held net long against the US dollar.
Investors' sentiment toward the euro deteriorated significantly ahead of the European Central Bank policy meeting. The net short euro position rose by $2.1bn to $15.0bn. Investors increased both the gross longs and shorts by 13897 and 29693 contracts respectively. The British Pound sentiment continued to improve with Pound net shorts falling by $0.2 billion to $7.0 billion. The net short position in British Pound narrowed as investors increased the gross longs and covered shorts by 2182 and 1730 contracts respectively. The bullish Japanese yen sentiment moderated considerably with the net long position in Japanese yen falling by $1.1bn to $4.5bn. Investors reduced the gross longs and increased shorts by 22707 and 79 contracts respectively.
The Canadian dollar sentiment turned more bearish ahead of the Bank of Canada policy meeting. The net shorts widened by $0.2bn to $1.1bn against the dollar. Investors cut both the gross longs and shorts. The bullish sentiment improved for the Australian dollar with net longs rising at a pace faster than the previous week recording $0.3bn gain to $2.3bn. Investors increased both the gross longs and gross shorts. The deterioration of sentiment toward the Swiss franc continued with the net shorts widening by $0.9bn to $2.1bn. Investors built both the gross longs and shorts.
CFTC Sentiment vs Exchange Rate
| | | | | |
| --- | --- | --- | --- | --- |
| October 18 2016 | Bias | Ex RateTrend | Position $ mln | Weekly Change |
| CAD | bearish | negative | -1091 | -208 |
| AUD | bullish | negative | 2299 | 333 |
| EUR | bearish | negative | -14993 | -2076 |
| GBP | bearish | negative | -7038 | 190 |
| CHF | bearish | negative | -2069 | -879 |
| JPY | bullish | neutral | 4452 | -1090 |
|   |   | Total | -18439 |   |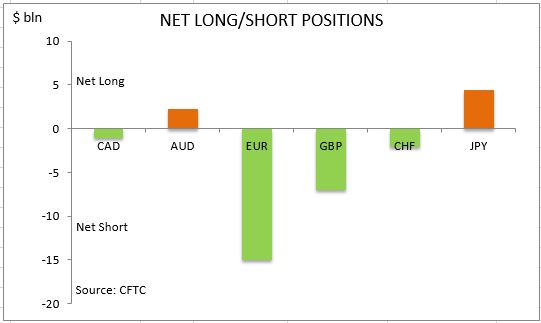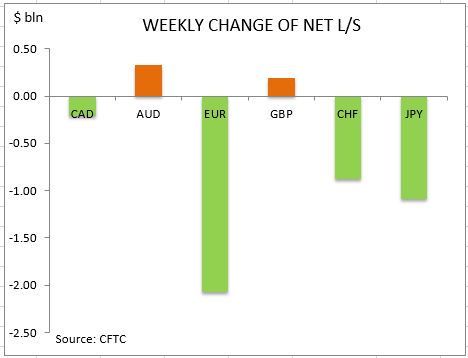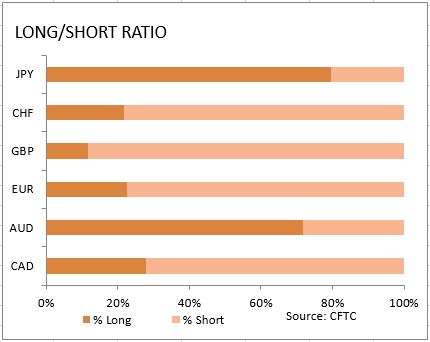 Note:
This overview has an informative and tutorial character and is published for free. All the data, included in the overview, are received from public sources, recognized as more or less reliable. Moreover, there is no guarantee that the indicated information is full and precise. Overviews are not updated. The whole information in each overview, including opinion, indicators, charts and anything else, is provided only for familiarization purposes and is not financial advice or а recommendation. The whole text and its any part, as well as the charts cannot be considered as an offer to make a deal with any asset. IFC Markets and its employees under any circumstances are not liable for any action taken by someone else during or after reading the overview.