US dollar bullish bets fall after jobs report
US dollar long bets fell to $24.95 billion from $25.44 billion against the major currencies during the previous week, according to the report of the Commodity Futures Trading Commission (CFTC) covering data up to January 10. The sentiment for dollar deteriorated amid mostly weak data. First, ADP report on employment change came in weaker than expected. However, the ISM Non-Manufacturing PMI remained unchanged in December at 57.2, indicating the services sector continued expanding at steady pace. Weekly claims data were positive showing initial jobless claims fell to 235000 from 263000 in the previous week though continuing claims rose to 2102 thousand from 2112 thousand.
The nonfarm payrolls report confirmed hiring slowed in December as 156 thousand new jobs were added against upwardly revised 204 thousand in November, and unemployment inched up to 4.7% from 4.6% as participation rate edged to 62.7% from 62.6%. The bright spot in jobs report was the increase of 0.4% in average hourly earnings after it dipped to negative 0.1% in November. The trade deficit for November was little changed as exports slipped and imports edged higher. Factory orders (excluding transportation) slowed to 0.1% rise in November from 0.8% increase the previous month. And minutes from Federal Reserve meeting showed policy makers were less hawkish than previously anticipated. They showed policy makers were divided over the pace of raising interest rates and noted uncertainty surrounding actual implementation of Trump's policy plans. Investors reduced the dollar bullish bets for the third time in one month. As is evident from the Sentiment table, sentiment improved for Japanese yen and euro. And net holding of all major currencies remain still short against the US dollar.
The euro sentiment improved as the net short euro position narrowed by $0.43bn to $8.69bn. Investors built both the gross longs and shorts by 5046 and 813 contracts respectively. The British Pound sentiment deteriorated slightly with Pound net shorts increasing by $56 million to $5.0 billion. The net short position in British Pound widened as investors increased both the gross longs and shorts by 1260 and 2349 contracts respectively. The Japanese yen sentiment improved as the net short position narrowed $0.60bn to $8.62bn. Investors cut both the gross longs and shorts by 11921 and 18846 contracts respectively.
The Canadian dollar sentiment grew more bearish with the net shorts rising by $311 million to $600 million against the dollar. Investors cut both the gross longs and shorts. The sentiment deteriorated marginally for the Australian dollar with net shorts growing by $ 48 million to $283 million. Investors cut the gross longs and covered shorts. The sentiment toward the Swiss franc continued to deteriorate with the net shorts widening by $116 million to $1.75bn. Investors cut both the gross longs and shorts.
CFTC Sentiment vs Exchange Rate
| | | | | |
| --- | --- | --- | --- | --- |
| January 10 2017 | Bias | Ex RateTrend | Position $ mln | Weekly Change |
| CAD | bullish | positive | -600 | -311 |
| AUD | bullish | positive | -283 | -48 |
| EUR | bearish | positive | -8686 | 428 |
| GBP | bearish | negative | -5007 | -56 |
| CHF | bearish | positive | -1752 | -116 |
| JPY | bearish | positive | -8617 | 599 |
|   |   | Total | -24945 |   |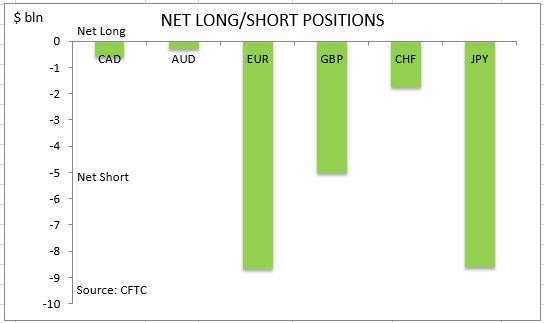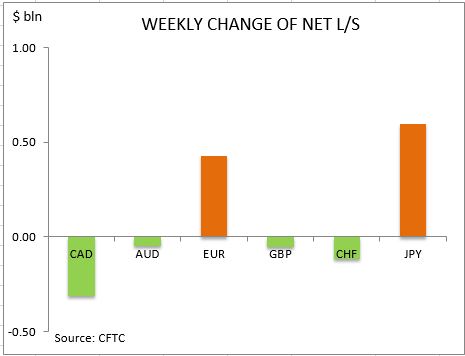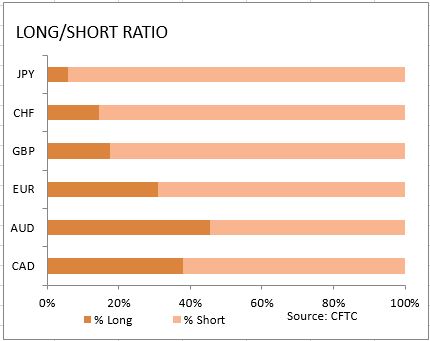 Note:
This overview has an informative and tutorial character and is published for free. All the data, included in the overview, are received from public sources, recognized as more or less reliable. Moreover, there is no guarantee that the indicated information is full and precise. Overviews are not updated. The whole information in each overview, including opinion, indicators, charts and anything else, is provided only for familiarization purposes and is not financial advice or а recommendation. The whole text and its any part, as well as the charts cannot be considered as an offer to make a deal with any asset. IFC Markets and its employees under any circumstances are not liable for any action taken by someone else during or after reading the overview.