US dollar bullish bets still falling
US dollar net long bets fell to $18.53 billion from $20.12 billion against the major currencies during the previous week, according to the report of the Commodity Futures Trading Commission (CFTC) covering data up to January 31. Data during the week didn't point to a significant change in economy's performance which could turn Fed policy makers stance more hawkish ahead of the first interest rate decision in the new year.
The fourth quarter GDP grew at 1.9% annualized rate, lower than the 3.5% expansion in the previous three month period and below market expectations of 2.2%. And while consumption rose solid 2.5%, the consumption growth rate declined from previous quarter's strong 3% reading according to the GDP advance estimate. The rise in wholesale inventories remained at 1% in December, contributing to economic expansion in the fourth quarter and pointing to softer readings for the current period. Durable goods declined 0.4% in December while a 2.6% increase was expected, but on the positive side capital goods orders, nondefense excluding aircraft, rose 0.8% instead of an expected 0.3% after strong 1.5% growth the previous month. The increase in personal income of 0.3% in December was also below the expected 0.4% growth but was better than no change recorded in the previous month. Another positive development was the increase in real personal spending 0.5% in December in line with expectations compared with 0.2% the previous month. And higher consumer sentiment for January, as reported by Michigan University, was another indication consumption will remain the main driver of growth. Higher Services PMI showed services sector continued expansion in January, with higher manufacturing activity indexes from Kansas and Dallas indicating continued expansion in manufacturing sector too. Weaker housing market data and consumer confidence were additional negatives: new home sales fell 10.4% in December on top of 2.8% decline in existing home sales and the Conference Board reported consumer confidence inched lower to 111.8 in January from 113.3 in December. Investors cut the dollar bullish bets for the sixth time in seven weeks. As is evident from the Sentiment table, sentiment improved for all currencies except for the Swiss franc. And Canadian dollar together with the Australian dollar remain the two major currencies held net long against the US dollar.
The euro sentiment continued to improve with the net short position narrowing by $0.9bn to $6.11bn. Investors cut both the gross longs and shorts by 6215 and 12850 contracts respectively. Investors turned marginally less bearish for British Pound with Pound net shorts falling by $123 million to $4.82 billion. The net short position in British Pound narrowed as fourth quarter GDP rose at steady 2.2% annual rate while a slower 2.1% growth was expected. Investors reduced the gross longs and covered shorts by 9289 and 10689 contracts respectively. The Japanese yen sentiment improved as the Bank of Japan held the monetary policy unchanged. The net short yen position fell by $0.95bn to $6.47bn. Investors increased the gross longs and covered shorts by 5089 and 3420 contracts respectively.
The Canadian dollar improved marginally with the net longs rising by $75 million to $266 million against the dollar. Investors increased both the gross longs and shorts. The bullish sentiment further improved for the Australian dollar with net longs increasing by $414 million to $780 million. Investors built both the gross longs and shorts. The sentiment toward the Swiss franc continued to deteriorate with the net shorts widening by $0.46bn to $2.17bn. Investors increased both the gross longs and shorts.
CFTC Sentiment vs Exchange Rate
| | | | | |
| --- | --- | --- | --- | --- |
| January 31 2017 | Bias | Ex RateTrend | Position $ mln | Weekly Change |
| CAD | bullish | positive | 266 | 75 |
| AUD | bullish | negative | 780 | 414 |
| EUR | bearish | positive | -6115 | 906 |
| GBP | bearish | positive | -4822 | 123 |
| CHF | bearish | negative | -2166 | -462 |
| JPY | bearish | positive | -6472 | 953 |
| | | Total | -18528 | |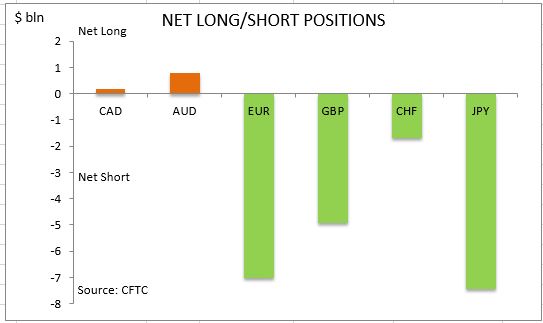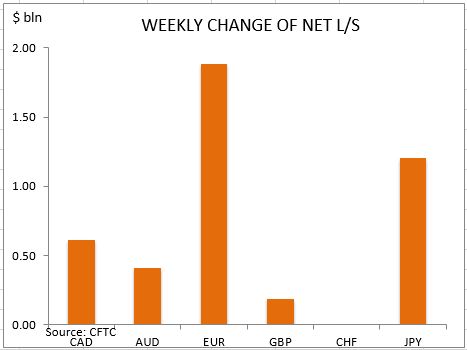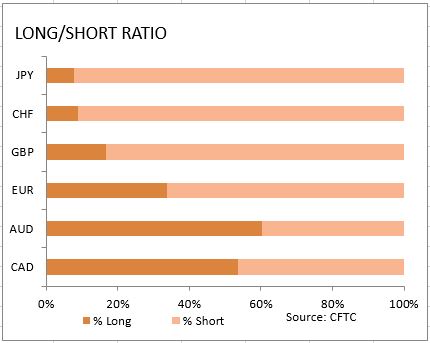 Note:
This overview has an informative and tutorial character and is published for free. All the data, included in the overview, are received from public sources, recognized as more or less reliable. Moreover, there is no guarantee that the indicated information is full and precise. Overviews are not updated. The whole information in each overview, including opinion, indicators, charts and anything else, is provided only for familiarization purposes and is not financial advice or а recommendation. The whole text and its any part, as well as the charts cannot be considered as an offer to make a deal with any asset. IFC Markets and its employees under any circumstances are not liable for any action taken by someone else during or after reading the overview.