To change the created PCI (or see the composition of the previously created PCI), open the "Instrument Browser". To do this, you can use the context menu in the "Market Watch" window or select "Trade -> Instruments" option in the main menu.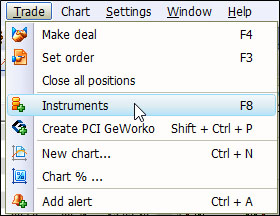 In the opened "Instrument Browser" window expand the list of the created PCIs - on the right side of the "All Instruments" section, click on the "+" on the left of the "My Instruments" group. Next, right-click on the selected PCI and choose the "Edit" option in the opened context menu.
You will see the window of editing the structure of the selected PCI. You can change any parameter of PCI, including the composition and volume of assets, as well as the name of the PCI. While editing the composition and volume these PCI positions and orders shall be closed. To save changes, click "Save."