Books on Technical Indicators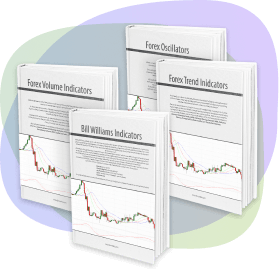 Features
The 4 tutorials below cover the basic features of
Technical Indicators
and how to utilize
Technical Analysis
to improve trading results. They are of great help for traders to understand the purpose and significance of the given indicators, as well as learn the best methods of using them. You will learn the calculation schemes as well. These tutorials will help you to improve your trading skills and reach your trading goals.
What do the technical indicators stand for?
How much are they helpful for you?
What are the basics you should know?
How to use them?
How to implement the best method of their calculation?
Bill Williams Indicators PDF
According to Bill Williams in order to reach success in the trading field, a trader should know the exact and whole structure of the market. This can be achieved by analyzing the market in five dimensions and taking into account certain Forex indicators.
Forex Oscillators
What is Oscillator and why do we need it? This is a technical analysis ratio which is used to forecast the behavior of Forex market. The oscillator's value fluctuates in the limited range while lower and higher bounds of this range correspond to "overbought" and "oversold" states of the market. Chart analysis instruments can be applied to the oscillators.
Forex Trend Indicators
Forex trend indicators form the indissoluble and essential part of doing technical analysis in Forex market. They help to interpret the price movement, indicating whether the price movement is appearing.
Forex Volume Indicators
Volume represents one of the primary Forex indicators of the market transactions and shows the total number of shares/contracts traded within a specified timeframe. The higher volume signifies higher liquidity of the trading instruments.
Learn Trading with IFC Markets