Investors cautious ahead of Fed meeting - 13.12.2016
Dow posts sixth record close
US stock indices ended mixed on Monday as Dow Industrials posted sixth consecutive record close while S&P 500 and Nasdaq retreated ahead of the Federal Reserve's two-day meeting. The dollar weakened: the live dollar index data show the ICE US Dollar index, a measure of the dollar's strength against a basket of six rival currencies, closed 0.6% lower at 100.908. The Dow Jones industrial closed at all time high 19796.43 gaining 0.2% led by Johnson & Johnson and Wal-Mart shares. The S&P 500 dipped 0.1% settling at 2256.96 with financial and consumer discretionary stocks weighing on the market. The Nasdaq index lost 0.6% to 54124.54 with Apple down 0.6% and Facebook 1.6% lower.
Investors were cautious ahead of Federal Reserve policy meeting. Optimism about US economic outlook boosted by president Trump's proclaimed support for financial and environmental deregulation as well as increased spending on infrastructure projects resulted in a rally with stock market indices posting multi-session record highs. The Federal Reserve is widely expected to raise interest rates by 0.25 percentage points at conclusion of FOMC meeting tomorrow. Treasury yields rose for the third straight session on Monday, with the benchmark 10-year Treasury note closing at 2.478%, its highest end-of-day level since June 2015. Today at 12:00 CET National Federation of Independent Business Small Business Index for November will be released, the outlook is positive for dollar. At 14:30 CET November Import Price Index will be published, the outlook is negative.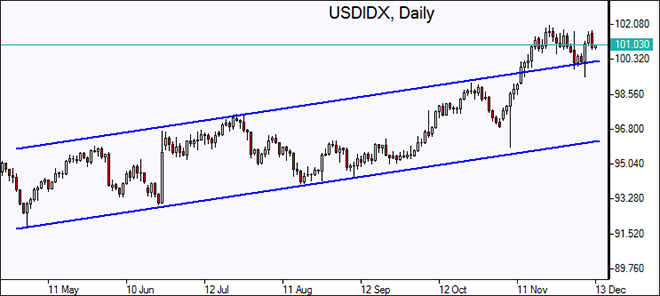 European stocks fall despite jump in energy shares
European stocks closed lower on Monday as investors refrained from making big bets ahead of the US Federal Reserve's policy meeting. The euro strengthened against the dollar continuing the recovery after Friday's drop following the European Central Bank announcement that it would extend bond buys but scale back the amount. The Stoxx Europe 600 index lost 0.5%. The DAX 30 index slid 0.1% to close at 11190.21, France's CAC 40 ended 0.1% lower and UK's FTSE 100 fell 0.9% to 6890.42.
Oil company shares rallied on agreement by major producers outside the Organization of the Petroleum Exporting Countries to cut their output by 558000 barrels a day. Italian bank shares rose after the foreign minister Paolo Gentiloni was asked to form a new government which allows Finance Minister Carlos Padoan to continue in his current role and help finalize the plans for aiding troubled banks. Today at 10:30 CET November Consumer Price Index will be released in UK, the tentative outlook is positive for Pound. At 11:00 CET December ZEW Economic Sentiment will be published in euro-zone, the outlook is positive for euro.
Asian stocks edge higher despite mixed Chinese data
Asian stocks are mixed today as investors focus on Federal Reserve policy decision. Nikkei ended 0.5% higher at 19250.52, its highest close since December 30 last year as yen dipped against the dollar. Chinese stocks are edging higher after data showed retail sales grew 10.8% in November from a year earlier, accelerating from a 10.0% increase in October while the growth in housing sales slowed to 16.2% in November from a 38.3% after stricter real estate buying controls were introduced in October. The Shanghai Composite Index is 0.08% higher and Hong Kong's Hang Seng index is 0.06% up. Australia's All Ordinaries Index is 0.3% lower despite weaker Australian dollar against the dollar.
Oil rally continues after major producers join OPEC output cut deal
Oil futures prices are extending gains today after hitting 17 month high on Monday following the agreement over the weekend by major oil producers including Russia to cut their output by 558000 barrels a day. 300000 barrels a day has been pledged by Russia, with the balance promised by 10 other countries. The total reduction together with the 1.2 million barrels a day agreed to by OPEC in late November represents almost 2% of the global supply. Traders are now focusing on whether producers will actually adhere to their commitments given the poor historical record of the OPEC. February Brent crude jumped 2.5% to $55.69 a barrel on London's ICE Futures exchange on Monday.
See Also
Follow the Market with Our Live Tools and Calendars
Market Analysis Lab
from Our Top Experts