The CFTC Report-Japanese Yen and Euro Net Short Rockets
---
The latest report by Commodity Futures Trading Commission (CFTC) covering data up to the 29th of July showed that investors were building their positions in favor of the US dollar. Market participants were increasing their long positions on US dollar ahead of major events. As we can see at the CFTC Sentiment table the
Euro
further increased its net bearish position to $18.11 billion against the US dollar, that is one of the lowest net bearish positions since September 2012. Moreover, the Euro had the largest weekly negative change among the major currencies at $-3.16 billion. The
Japanese Yen
came second in negative weekly change. The net short on the Samurai currency rose by $2.30 billion overpassing previous week's moderation and stands now at $-8.94 billion.
Only the
Canadian
and the
Australian
strengthened their net position against the US dollar but even that was a small increase. The Loonie increased its net bullish position to $2.09 billion partly due to rising oil prices while the USDCAD pair retraced higher, so we see that speculators did not follow the upside bias of the currency pair. The Aussie is at a technical turning point and for that reason the bulls and the bears are almost equal.
Investors reduced their net long positions on the British pound to $2.63 billion, the net short position against the Swiss franc increased by $0.59 billion. As we can see the US dollar position has been building against the most of its major counterparties and that was before the release of the 2Q GDP, FOMC Statement and Non-Farm Payrolls. Eventually the data for US were mixed, the US dollar index weakened on Friday and for that we expect some weakening in US dollar at the following CFTC report.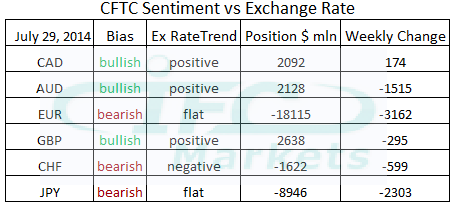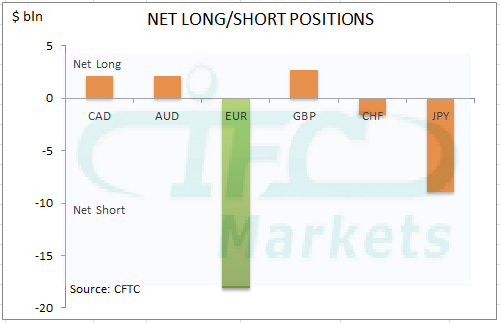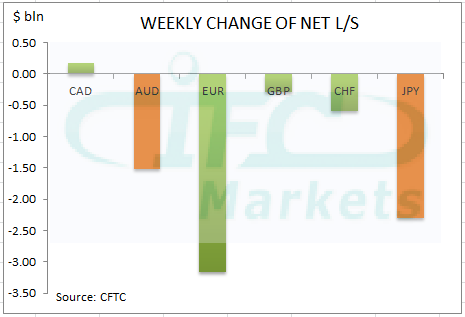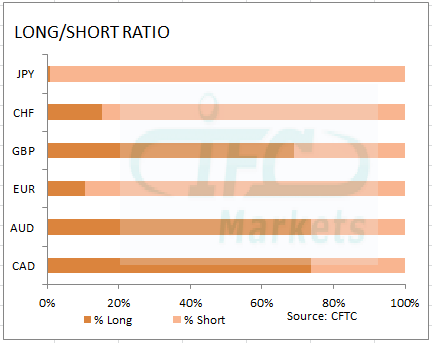 Note
This overview has an informative and tutorial character and is published for free. All the data, included in the overview, are received from public sources, recognized as more or less reliable. Moreover, there is no guarantee that the indicated information is full and precise. Overviews are not updated. The whole information in each overview, including opinion, indicators, charts and anything else, is provided only for familiarization purposes and is not financial advice or а recommendation. The whole text and its any part, as well as the charts cannot be considered as an offer to make a deal with any asset. IFC Markets and its employees under any circumstances are not liable for any action taken by someone else during or after reading the overview.