Best Forex Trading Platforms
Author: Heghine Grigoryan
11/05/21
| Reading Time:

--

min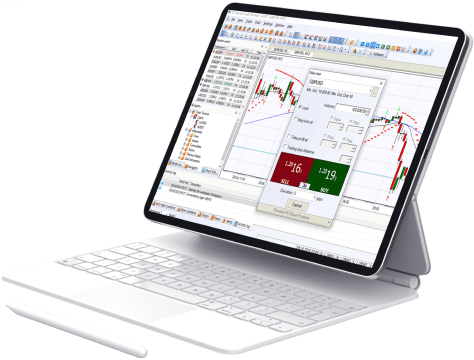 All brokers offer platforms for trading in financial markets. Best Forex trading platforms include all the required components necessary for effective trading. Тhe choice of such a platform is better to make both through comparative analysis of the main characteristics of the platforms and in an experienced way, as each trader has own trading preferences.
Best Forex Trading Platforms
We provide three different trading platforms:
NetTradeX
MetaTrader 4
MetaTrader 5
Features Best Forex Trading Platforms Offer
Best Forex trading platforms take into consideration traders' requests and peculiarities of financial markets. As a rule, such platforms are easy to use, have a full range of tools for fundamental and technical analyses, provide live quotes and tools for building charts and conducting technical analysis. Such trading platforms are distinguished by their versatility.
The main features of the best Forex trading platforms:
An interface for building charts: The ability to trade directly from the chart allows to react to the quotation changes quickly.
Technical analysis tools: The complete set of technical analysis tools include different technical indicators and graphical objects.
Historical data and news feed in real time mode : The more information a trader has, the better the decisions will be made. Based on the received information, the trader can develop certain trading strategies, and calculate the time for opening and closing positions.
Trading orders: The opportunity of using simple market buy and sell orders as well as linked and pending orders. The combination of such orders is very important and provides full process of trading. Market order, Pending order, OCO, Activation order Stop and Limit order, as well as Trailing Stop mode are provided.
Trading instruments: The opportunity to trade great number of instruments highly contributes to minimizing the risks. The more the instruments, the more effective is diversification. IFC Markets has developed the unique technology of creating Personal Composite Instruments (PCI) through GeWorko Method. This technology is available only on NetTradeX trading platform and provides traders with an opportunity to create and trade their instruments from currencies, stocks, indices and commodities, as well as to create portfolios from various assets only by a few clicks.
How to Determine Best Forex Trading Platforms?
While choosing best Forex trading platforms traders should take into account the above mentioned main functions and capacities. The convenience of the functions of the platform may be checked only by opening a demo account and trying to trade on it. This is the best method to reveal the advantages and disadvantages of the platform. Testing the trading strategies may be checked by the same way as well. Moreover, a comparative analysis may be conducted between the platforms and choose the one, which meets all your requirements.
IFC Markets is a leading innovative financial company, offering private and corporate investors wide set of trading and analytical tools. The company provides its clients with Forex and CFD trading through its own-generated trading platform NetTradeX, which is available on PC, iOS, Android and Windows Mobile. The company also offers MetaTrader 4 platform available on PC, Mac OS, iOS and Android. You may compare the advantages of both platforms.
Was this article helpful?
Yes
No
Learn Trading with IFC Markets