Author: Garry Berg
24/09/20
CFD (Contract for Difference) is a contract between two parties known as "buyer" and "seller" to exchange the difference between opening and closing prices of the contract. The popularity of the instrument mainly stems of a simple fact that investors do not have to obtain the physical assets for trading them. Observations have proven that significant number of traders prefer CFD trading over other financial instruments.
Benefits of CFD Trading
No ownership of the actual underlying asset

Leveraged Trading

Fast access to a variety of markets

Low transaction costs and No hidden commissions

Profit from both rising and falling markets

Ability to trade through online trading platforms on various devices
CFD Trading Tips and Strategies
Learn more about CFD Trading
CFD Trading Tutorial
With CFD trading, investors get an opportunity to try themselves in various segments of the financial market. Leran the basics of trading CFDs with an example of a CFD trading deal.
Download CFD Tutorial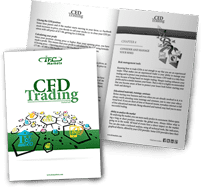 Learn Trading with IFC Markets