Author: Garry Berg
15/06/21
| Reading Time:

--

min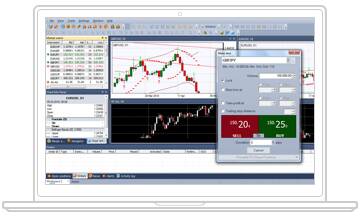 What is a Forex Trading Platform?
Forex trading platform is a special software developed for traders and investors to trade financial instruments and manage their accounts. Being provided by Forex brokers, Forex trading platforms act as an intermediary between a broker and a trader.
Trading Platforms on Forex
This multifunctional software allows traders to perform trading operations and includes the following functions:
Providing price information in the form of quotation tables and charts;
Providing an interface to place orders on trading instruments like currency pairs, stocks and commodities;
Providing a terminal, where traders can easily open and close positions, set orders and build charts.
Since electronic trading is provided on the platforms, all functions for studying markets, analyzing quotations of trading instruments, building charts, making deals and setting orders may be realized from any location.
A trading platform is composed of two main parts – a trading server and a trading terminal. The latter is installed on a trader's PC or is realized as a part of the broker's website.
Main Types of Forex Trading Platforms
A trading platform can be installed either on a user's PC or mobile device; the user may trade directly online as well. Platforms may be installed on any operating system: Windows, Mac OS, iOS, Android and others.
Web trading is usually realized through programs with Java language. The main advantage of this technology of accessing the market is that there is no need to download a trading terminal on the PC, since trading is possible on any PC with Internet connection.
What Features Should a Forex Trading Platform Have?
Simple and user-friendly interface;

Opportunity of watching real-time quotations both in table and chart formats;

Provision of all important information about the account, including balance, current profit/loss and leverage;

Provision of quotations with a sufficient historical depth and a wide range of instruments for technical analysis;
Opportunity of making deals with financial instruments at current quotations, convenient interface for setting pending orders.
Forex trading platforms, offered by various Forex brokers, differ by their functionality and interface. When choosing a broker and a trading platform, it is important to take into consideration individual requirements, system requirements of your PC and Internet, trading style, long-term and short-term trading goals, as well as the requirement in developing trading strategies.
IFC Markets is a leading innovative financial company, offering private and corporate investors wide set of trading and analytical tools. The company provides its clients with Forex and CFD trading through its own-generated trading platform NetTradeX, which is available on PC, iOS, Android and Windows Mobile. The company also offers MetaTrader 4 platform available on PC, Mac OS, iOS and Android. You may compare the advantages of both platforms.
Was this article helpful?
Yes
No
Learn Trading with IFC Markets