Fractals Indicator - Williams Fractals
Author: Garry Berg
16/06/21
| Reading Time:

--

min
What is Fractal Indicator
Fractal indicator is a wonderful technical analysis tool, highlighting the local heights and lows on candlestick charts, where the price movement had stopped and reversed. These reversal points are called respectively Highs and Lows. A breakout of these extrema can stimulate a strong move in the emerging course. So, fractals are often used to determine the direction in which the price will move.
How Does Fractal Indicator Work
After a particular price pattern appears on a graph, we can identify an already shaped fractal.
Bill Williams' Fractals are commonly formed around a group of five consecutive bars or candlesticks, the first two of which are successively reaching higher (or diving deeper) and the last two descending lower (or growing higher) with the middle one being the highest (or the lowest) result in the group accordingly.
Buy fractal is an arrow pointing to the top
Sell fractal is an arrow pointing to the bottom
By the way, according to Williams' book "Trading Chaos" (1995), a fractal does not have to consist of exactly 5 bars/candlesticks, but for some reason, this combination was included in the list of standard MT4 platform indicators and became the most popular among traders.
How to Use Fractal Indicator
Bill Williams Fractal indicator can be used in trading in many ways.
It points out where to place stop loss and take profit orders.
It identifies potential breakouts.
It works the best in pair with the Williams Alligator. There are specific conditions defined by Williams under which the two indicators work together in a trader's favor.
It can also be useful in combination with the Fibonacci levels indicator or Pivot points.
As Fractal Indicator is a trend indicator, so it's used to determine the direction of a trend.
A buy fractal serves as a resistance level, and when the price breaks above it, a buy signal occurs.
A sell fractal serves as a support level, and when the price moves below it, a sell signal occurs.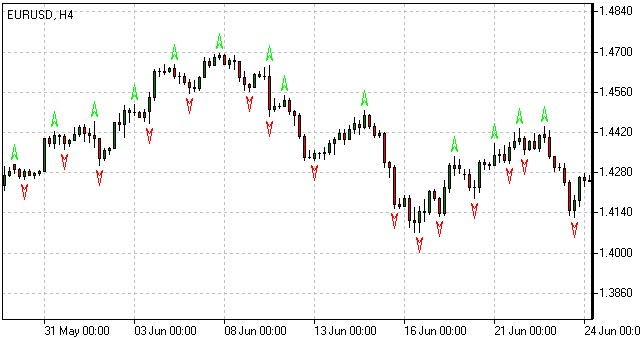 Fractals Indicator
Fractal and Alligator Strategy
As we mentioned above, fractals work more productively combined with Alligator Indicator. There is a special strategy, designed by Williams, which is quite simple and understandable. Let's have a look at how it works.
Alligator not only filters and clears the signals generated by Fractals Indicator but can help find the best entry points. In particular, it is recommended to go long, when a buy fractal is above the red line of the Alligator Indicator (Alligator's teeth). And, when a sell fractal is below the red line of the Alligator Indicator, it's recommended to go short.
Traders apply this approach to both the Forex and Stock markets.
Bottom Line: Fractal Indicator Features
Besides displaying the local highs/lows, fractals help traders identify support and resistance lines for selected instruments.
Fractal indicator can be applied on any timeframe.
Fractals appear on a chart very frequently, and trading all of them will be a waste of money and time. That's why traders use other indicators to filter their signals.
Fractals are usually redrawn and they always lag behind by 2 bars or even more, so traders should be very careful when trading fractals and combine them with other indicators and oscillators.
Fractals are more reliable on larger timeframes, but in that case, they give fewer signals.
How to use Fractals Indicator in trading platform
Forex Indicators FAQ
What is a Forex Indicator?
Forex technical analysis indicators are regularly used by traders to predict price movements in the Foreign Exchange market and thus increase the likelihood of making money in the Forex market. Forex indicators actually take into account the price and volume of a particular trading instrument for further market forecasting.
What are the Best Technical Indicators?
Technical analysis, which is often included in various trading strategies, cannot be considered separately from technical indicators. Some indicators are rarely used, while others are almost irreplaceable for many traders. We highlighted 5 the most popular technical analysis indicators: Moving average (MA), Exponential moving average (EMA), Stochastic oscillator, Bollinger bands, Moving average convergence divergence (MACD).
How to Use Technical Indicators?
Trading strategies usually require multiple technical analysis indicators to increase forecast accuracy. Lagging technical indicators show past trends, while leading indicators predict upcoming moves. When selecting trading indicators, also consider different types of charting tools, such as volume, momentum, volatility and trend indicators.
Do Indicators Work in Forex?
There are 2 types of indicators: lagging and leading. Lagging indicators base on past movements and market reversals, and are more effective when markets are trending strongly. Leading indicators try to predict the price moves and reversals in the future, they are used commonly in range trading, and since they produce many false signals, they are not suitable for trend trading.
Use indicators after downloading one of the trading platforms, offered by IFC Markets.
Was this article helpful?
Yes
No
Related Technical Indicators